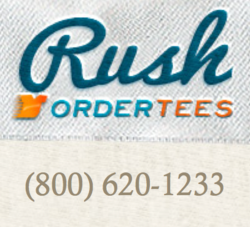 (PRWEB) March 24, 2012
The ability to make your own t-shirts online has increased the popularity of personalized t-shirts among businesses and consumers. While businesses will design t-shirts online for uniforms and marketing value, consumers use custom t-shirts for graduations, birthdays, family reunions and more.
With the help of t-shirt printing companies, it has become increasingly easy for any consumer to design t-shirts online no matter what the occasion or need.
At this time of year, many consumers want to buy custom printed shirts and custom graduation t-shirts in anticipation of the big day. The challenge is many people want the souvenir - not just the mom or graduate whose special day it is.
In order to get the best value, we always suggest buying more of a single design explained Ron Reed, VP of Marketing & eCommerce for Printfly and Rush Order Tees. Set up costs are fixed and not passed along to the consumer. As a result, the unit price per shirt goes down with every additional shirt ordered and drops considerably with larger orders.
The budget conscious can take advantage of this by creating a design that can be shared by their entire group rather than just one person.
Reed outlined a few suggestions and examples of this approach. Instead of The Graduate or ConGRADulations with the graduates name which could only be worn by one person or by the group for a day, taking a witty approach extends interest to the whole group and has longevity. College is Expensive... This T-shirt was Not with the year and graduates name celebrates the day and graduate while being a souvenir everyone can enjoy for years to come for its camp value.
Our design studio offers visitors a lot more freedom to create and upload their own images to work with. Our designers can work with any image type and optimize every image and design so it looks its best on fabric. This is a free service we can provide having a large full time in-house team or professional graphic designers.
Screen printed shirts are fashionable ways to celebrate just about any occasion.
For more details on promotions and events, contact Rush Order Tees at (800) 620-1233.
About Rush Order Tees | a Printfly Company
Printfly and Rush Order Tees are eCommerce based businesses built on repeat business and referrals from satisfied customers, Rush Order Tees has grown to be a major leader in the custom shirt printing industry.
Since it's founding in 2002, Rush Order Tees has expanded its product offering beyond custom printed shirts to include a wide variety of sports, academic, community-driven, commercial and business offerings including company polos, custom business shirts, custom team jerseys, custom printed hats, custom printed sweats, custom college shirts, school jerseys, custom totes, custom aprons, and more.
As it began to grow out of its prior facilities, Rush Order Tees acquired a 15,000 SF facility in North East Philadelphia, PA which they equipped with over twenty of the highest quality screen printers, digital printers (DTG Direct to Garment printers), screen exposure units, screen printing heaters and much more. Now, in 2012, the business continues to grow to a point that now requires a new facility and offices.
As the company grew, it continued to offer free nationwide shipping along with no fee polices and industry leading low prices. Through the years, Rush Order Tees has developed a reputation for excellent service, value and quality. Their customers have voiced their well earned allegiance and appreciation across many consumer-driven review sites earning Rush Order Tees and Printfly overwhelmingly positive online rating and reviews across the leading sites including Google, Superpages, Yellow Pages, and the Better Business Bureau where they hold a certified A+ Accredited Rating.
Contact Rush Order Tees at 1 (800) 620-1233