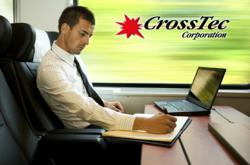 Boca Raton, FL (PRWEB) April 26, 2012
International software reseller for CrossTec Corporation, Akeydor Limited, has expanded its headquarters in England, UK, to offer its product line to a larger spread of organizations. The firms recently announced plans to relocate from the Athens, Greece headquarters to the new location in London have been completed.
Akeydor Limited is one of the largest international software reseller for CrossTec Corporaton's product line that consists of CrossTecs intelligent and powerful IT Asset Management, Remote Control, Classroom Management & Training solutions, as well as Web based Help Desk and Service Management.
CrossTec's partner Akeydor has core expertise in implementing Remote Control, Classroom Management and Help Desk Solutions from CrossTec to Corporate as well as to Educational customers in the UK and Western Europe.
SchoolVue is CrossTec's core Classroom Management and Training Software Solution. SchoolVue contains powerful features to assist the Tutors and Trainers in controlling and collaborating with their networked classrooms.
Among several powerful options, SchoolVue includes a flexible Tech Console to enable Technical Support personnel to offer technical assistance to the Tutors as well as Students, several demo options, the Journal feature (for keeping notes) and much more.
ResQDesk is CrossTecs core Help Desk and Service Management solution. ResQDesk is web based help desk application which allows the Operator to assist and provide support to unlimited number of Customers / users within an organization, as well as external.
EMS is CrossTecs Asset Management tool for Hardware and Software Inventory. EMS provides alerts on inventory changes which are reported in detail. EMS includes a powerful feature for Software Distribution, License Management, Metering and much more.

CrossTecs EMS can also integrate with an organizations Remote Control product, to complete the asset management suite (Asset Management + Remote Control).
CrossTec partner, Akeydor, believes that fast electronic deliveries along with its fast and efficient support complement Akeydors fast and efficient service.
CrossTec Corporation Partners with Akeydor Limited, a now United Kingdom based reseller specializing on the implementation of SchoolVue, Remote Control, EMS, ResQDesk solutions in Corporate as well as Educational customers.
Akeydors recent establishment in the UK is a strategic decision by its management to reach even more customers worldwide and to offer its intelligent and flexible solutions.
For more information about Akeydor Limited, please visit http://www.Akeydor.com
About CrossTec Corporation:

CrossTec Corporation is headquartered in Boca Raton, FL with offices in Grand Rapids, MI. They have been a leading provider of software solutions for schools since 1996, including the award winning CrossTec SchoolVue brand of classroom management software. CrossTecs mission is to empower IT departments, teachers, and tech coordinators by offering a combination of education-tested products, substantial feature sets, superior value, and unparalleled customer service. For more information on CrossTec Corporation or the CrossTec family of products or to speak to a product representative, please call 800-675-0729 or visit http://www.crosstecsoftware.com.
More Tech Press Releases