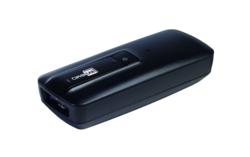 Plano, TX (PRWEB) May 30, 2012
CipherLab, a leading innovator in Automatic Identification and Data Capture (AIDC) has delivered a new scanner 1662 laser scanner to the 1600 series of pocket-sized scanners. Easily to be carried around, this scanner is also equipped with laser reader to better assist your field staffs when capturing barcodes under the bright sunlight. Additionally, the long lasting battery life of 1662 laser scanner makes it a must-have tool for your mobile staffs.
While being operated in outdoor environments, the scanners performance may be affected by sunlight. We hence developed an additional reader option for field workers who have to deal with the situation every day, commented Sherman Chuang, President of CipherLab. We have confidence that the 1600 series laser scanner can not only get the jobs done but also done better.
In addition to these features, the 1662 laser scanner comes with software tools for easy configuration coupled with a large 4 MB on-board memory which provides flexibility in data storage. It is also equipped with Bluetooth