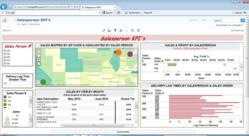 Novi, MI & San Jose, CA (PRWEB) April 10, 2012
CFO Rapid Fire business intelligence allows users to analyze and trend all of their companys data from anywhere and at any-time, said Meg Potts, founding partner of CFO Rapid Fire. Partnering with Intacct is a natural extension of our goal to provide users with a 360 degree interactive experience with their business information. The ability of a company to trend its non-financial enterprise data with its accounting/ERP data is unparalleled in any other application.
At the core of the CFO Rapid Fire / Intacct-Ready module is Instalytics, a brand new way of seeing, reading and interpreting financial statements. Instalytics provides the first breakthrough in financial reporting in years no longer constrained by the traditional current year, prior year flat view of financial reporting; financial statements take on a new life, allowing users to view any time period, in any format, for any account at a click of a button.
The drill down capability of Intacct is replicated in Instalytics and allows a company to further refine and extend the reach of Intacct to other areas of their business. Companies are using this new method of reporting to track and trend side by side periods, quarters, and years, while at the same time using the broad functionality of CFO Rapid Fire to marry trends with their other data sources. This new technology doesnt stop with financial statements; it applies to EVERY source of information within Intacct including project management, project accounting, and sales force automation. Instalytics is addictive. Were able to provide our customers with what they need to see, when they want to see it, wherever they are, added Gregory Thomas, founding partner of CFO Rapid Fire.
CFO Rapid Fire can be a useful tool for our joint customers that want to analyze and trend their financial data with other operational data, said Dan Miller, vice president of Product Management for Intacct. CFO Rapid Fire makes it easy for companies to pull data from multiple sources such as Intacct, payroll, point of sale, purchasing into one system for analysis and reporting.
About the Intacct-Ready Partner Program

Under the Intacct-Ready Partner Program, Intacct partners with leading companies to develop and certify integration between their cloud computing-based applications and technologies and Intacct's cloud financial management applications. More information on how to achieve Intacct-Ready status is available at http://us.intacct.com.
About CFO Rapid Fire, LLC.

Established in 2010, CFO Rapid Fire, LLC is the creator of CFO Rapid Fire the interactive, cloud based, business intelligence system that captures business data from any available source and translates it into exciting visualizations providing bold and interactive graphical displays of information that result in bottom line change. The company was founded by enterprising finance professionals Gregory Thomas and Meg Potts, whose vision of providing real-time access to critical and relevant business analytics continues to define the company.