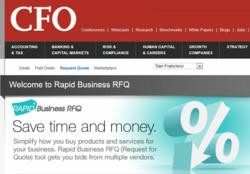 New York, NY (PRWEB) April 20, 2012
CFO Publishing LLC and online B2B marketplace RapidBuyr announced today the launch of CFO Deals, a partnership offering mission-critical savings on essential business products and services to nearly one million finance executives in the CFO network. CFO is the premier publisher of high quality, relevant content and advice for finance executives across an array of industries, through CFO.com, CFO magazine, and their conference and research business.
RapidBuyr has demonstrated that they can provide real value and savings for businesses of any size said Richard Rivera, senior vice president, Product Development of CFO Publishing. It is our business to communicate information that equips finance professionals to make better business decisions, including vendor selections and product purchases. Theres no question that our subscribers will be eager for, and will benefit from, these exclusive savings.

CFO customers will receive targeted offers served through CFO.com and across its network, as well as via an email newsletter through the RapidBuyr platform.
In todays worldwide economic climate, business leaders are acutely aware of the bottom line, said Kevin Wells, executive vice president of RapidBuyr. We are enhancing the way organizations of all sizes approach buying with our focus on efficient sourcing and pricing. By partnering with CFO Publishing, and providing their growing community with exceptional pricing on everything from virtual meeting software to essential business equipment and office supplies, were helping businesses make smarter decisions in buying the products and services they use every day.
CFO Deals brings big-business buying power to small and mid-sized businesses, enabling them to take advantage of reduced pricing normally reserved only for enterprise-sized buyers. For more information and to register visit http://cfo.rapidbuyr.com/Welcome-to-RapidBuyr.
About CFO Publishing: CFO Publishing LLC, a portfolio company of Seguin Partners, is the leading business-to-business media brand focused on the information needs of senior finance executives. Delivering content through multiple channels including online, digital, mobile, and print, the business consists of CFO magazine, CFO.com, CFO Research Services, CFO Learning and CFO Conferences. CFOs award-winning editorial content and loyal, influential audience make it a valued resource for its readers as well as an effective marketing partner for a wide range of B-to-B companies. CFO has long-standing relationships with nearly a million finance executives.
About RapidBuyr

RapidBuyr offers a targeted buying and selling platform for small and medium-size businesses (SMBs). The service provides millions of businesses with deep discounts of up to 80 percent on products and services such as business equipment, professional and business services, office supplies, education and training, marketing and communications, and corporate events. Founded by successful entrepreneurs from Amazon, Microsoft, CNET, Dow Jones and Ziff Davis, the companys relationships with UBM, CNET, ZDNet, TechRepublic, Hanley Wood, BuyerZone and others power local distribution and enable access to a highly targeted business audience. For more information, visit http://www.RapidBuyr.com.
Related Tech Press Releases