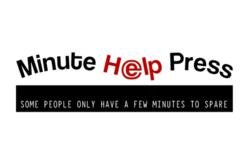 Anaheim, California (PRWEB) May 01, 2012
Spider Robinsons famous phrase, Librarians are the secret masters of the world certainly rings true for Roland Lomeli and Scott La Counte. The pair met during their time as desk attendants at a local Anaheim reference library and, upon becoming victims of the States 2010 financial cutbacks, hatched an un-thwartable plan to launch a refreshing twist on the traditional publishing house.
From our time as librarians we became aware that, in this day and age, people want to access information quickly and with minimum hassle says Lomeli, a Linguistics Graduate.
He continues, We both noticed that people often wanted guide books that taught them everything they needed to know on a particular subject in just an hour or two. So, we decided this would form the basis of the books our new publishing house would focus on.
The result is Minute Help Press, a publishing house with a sole focus on electronic eBooks that act as a life-saving grace to those wanting quick and snappy information.
La Counte, who had already published two massively popular eBooks of his own, discusses the booming success the pair has experienced:
It went faster than we could ever imagine. We originally aimed to publish three new eBooks a month. A year and a half later we are publishing around 30 news books a month with an inventory of over 200 titles across numerous different subjects he explains.
Talking to the pair is a demonstration of cool and calm modesty. However, they have a lot to celebrate. Over 80,000 individual books have been sold, with one of their iPad 2 guides reaching best seller status on iBooks in just one week.
Being an independent publisher, says Lomeli, Gives us the freedom of saving money by doing editing, marketing and distribution ourselves. We pass that savings onto our readers by giving them books that publishers would charge 10 times the price for.
Lomeli went on to explain that while the big six argue about the agency model, independent publishers have come up from behind by doing everything themselves, Competition is fierce, but eBooks have created a platform where small publishers can actually compete he adds.
If their recent success wasnt enough, the duo has big plans for the future. They are already rapidly increasing the volume of books they publish on a monthly basis and, with demand from the market for physical books, Lomeli and La Counte are currently converting some of their electronic masterpieces into paperback perfections perfect for those whod prefer a real book.
To keep abreast of the latest developments at Minute Help Press, as well as browse their catalog of titles, please visit: http://www.minutehelpguides.com/
Those with a fix for social media can also find them on Facebook Here.
About Minute Help
Minute Help was formed in 2010 by two librarians. With over 200 books, Minute Help covers a number of subjects from test prep and celebrity bios to tech guides and cookbooks--all for people with only minutes to spare.
During the past two years they have had over a dozen electronic bestsellers and have sold more than 100,000 eBooks.