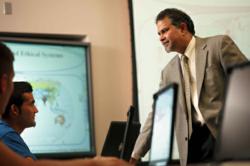 Smithfield, RI (PRWEB) May 29, 2012
Bryant University's international business program is now ranked 27th in the nation by Bloomberg Businessweek, which released rankings of 14 specialty business programs earlier this month.
International business (IB) is among the University's fastest-growing undergraduate academic programs, with enrollment more than doubling between 2006 (with 150 students) and 2012 (with 322 students). Last year, the IB program ranked 41st.
Another Bryant program entrepreneurship, currently offered as a minor and a concentration is rising quickly in the Bloomberg Businessweek rankings. Debuting last year at 97th, the program shot up 26 points to a ranking of 71st this year. Beginning in January 2013, Bryant will offer a concentration in social entrepreneurship as well.
"Students who graduate from Bryant's IB and entrepreneurship programs hit the ground running, setting themselves apart from the pack," said Dr. Jos