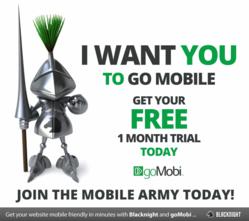 Carlow,Ireland (PRWEB) April 12, 2012
Leading Irish registrar and hosting company Blacknight have made it their mission to help customers go mobile with a free 30- day trial of the goMobi mobile site builder.
It is projected that by 2013, there will be a billion mobile Internet users; Blacknight are helping their customers get ahead of the curve by giving them the tools to take their main websites mobile.
GoMobi ensures that your website will display properly on mobile devices as well as optimize large graphics so 3G users wont get hit with massive data bills. It also allows users to adjust the content of their mobile site so the most important information will be available instantly to mobile users. Whether it's your opening hours / location on a map / menu or latest news from your site with goMobi it's simple to have a cost effective mobile website online in minutes
Mobile technology has become a huge part of the market with many users accessing the Internet exclusively by mobile devices, explains Michele Neylon of Blacknight. Businesses can no longer afford to be inaccessible to mobile Internet users.
GoMobi makes it possible for customers to easily find your business anywhere, anytime. The interface is intuitive and easy-to-use giving customers immediate access on their mobile phone to key information about your business with the ability to contact you with just one click or touch.
Each goMobi site is built and optimized for SEO, and includes creation of a sitemap, well defined page titles and descriptions, optimized site structure for navigation and more. Also, when you sign up for goMobi, you get access to the user-friendly goMobi Setup Assistant that puts you in charge of your sites look and content.
Neylon continues: As a company we prize innovation and are pleased to offer a 30-day trial of goMobi to help businesses transition to adding mobile site capability. We cant wait to see what our customers do with the service.
After the 30-day free trail has completed, users have the option to continue with a subscription or cancel the service. Blacknight are confident that once you go mobile, you wont go back.
Visit http://www.blacknight.com/goMobi.html to learn more about goMobi and sign up for the 30-day free trial.
Visit http://blog.blacknight.com/are-you-ready-to-join-the-mobile-revolution.html to learn more about joining the Blacknight mobile revolution.
About Blacknight:

Blacknight are an Irish based, ICANN accredited domain registrar and hosting company. Recipients of several awards for their revolutionary use of social media, Blacknight are one of Europes most cutting edge Internet companies. Blacknight constantly seek to lead the way by introducing innovative solutions for its client base and provide dedicated servers and colocation as well as a comprehensive range of Microsoft Windows and Linux based hosting plans and domain name registration services to business globally.
Find More Graphic Press Releases