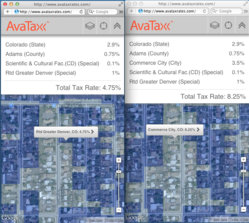 Bainbridge Island, WA (PRWEB) March 28, 2012
Can an app add interest to sales tax calculation? Avalara, the market leader in sales tax automation for businesses of all sizes, says its new Avatax Rates app does that and more.
Specifically, the Avatax app offers a free, easy way to look up sales tax rates across the U.S. through a touch map interface with clear, detailed delineation of the 11,000+ sales tax jurisdictions nationwide. Avatax Rates is fueled by Avalaras industry-leading geo-location engine, which calculates precise sales tax rates based on geographical coordinates. This allows Avalara customers including mobile users to accurately conduct business from virtually any place on earth.
From a visual perspective, the Avatax app provides a graphical map interface that shows tax jurisdictions overlaid on a map, giving users an interesting opportunity to see precise sales tax boundaries and corresponding rates, which can vary drastically block by block.
Sales tax boundaries can be amazingly arbitrary. There are countless examples like Commerce City, Colorado where the tax regions go back and forth in same neighborhood, said Jared Vogt, Chief Strategy Officer at Avalara. Because Avatax calculates sales tax data based on exact geospatial location instead of zip codes were able to provide the right rate with pinpoint accuracy, even if the transaction is in a new construction site, a transitory farmers market, or on an offshore oilrig.
This unmatched level of accuracy gives businesses many advantages, including greater risk mitigation in the event of an audit, and reduced customer service issues related to incorrect tax rates. Avalara also provides businesses the ability to file and remit sales tax with the highest level of confidence.
The free Avatax Rates app is available for Android, iPhone and iPad users and can be found at http://www.avataxrates.com, Google Play, Apple and Amazon app stores. Additionally, AvaTax Rates works as a web app on all major browsers.
About Avalara

Avalara is the leader and visionary in sales tax automation for businesses of all sizes. It simplifies the complexity associated with sales and use tax and in the process makes compliance achievable by all.
Avalara partners with nearly 170 of the worlds leading accounting and commercial software publishers to accomplish this. Its web-based offering provides the most complete set of transactional tax compliance services available, including tax calculation, exemption certificate management and returns processing. It also offers 1099 filing and reporting.
Avalara currently serves more than 60,000 registered users globally and calculates VAT, sales and use taxes on more than 750 million transactions annually. It also manages more than 1.5 million exemption certificates, submits approximately 500,000 returns and files and remits nearly $ 10 billion in sales and use tax collections per year.
Established in 2004, Avalara is a founding member and Certified Service Provider of the Streamlined Sales Tax initiative and one of the fastest-growing companies in America. It employs more than 250 professionals at its headquarters on Bainbridge Island, WA and offices in Seattle; Irvine, San Diego and Rocklin, CA; Falls Church, VA and Pune, India.