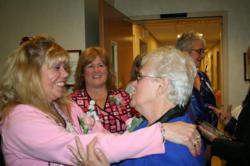 Libertyville, IL (PRWEB) April 26, 2012
Beverly Tuhy has something to celebrate.
The 71-year-old Mundelein resident recently passed an important milestone in her battle against breast cancer: Shes been free of the disease for five years.
Tuhy was treated for breast cancer at Advocate Condell Medical Center in Libertyville. She joined her doctors, nurses and the hospitals administrators and other associates to mark a recent accreditation by the American College of Radiology, which has designated Condell a Breast Imaging Center of Excellence.
For Tuhy, who was diagnosed with breast cancer after a routine mammogram revealed a small lump, the honor comes as no surprise.
The day she got the news, I sat with Monica (Rettig, RN, Advocate Condells Breast Health Specialist) and she held my hand. I said, What do I do now?
I was in shock, Tuhy told a crowd of more than 50 gathered for an award presentation last week. But I walked out of there feeling empowered, like it was going to be OK, Tuhy said. And each time I came back, I was greeted with a warm smile and made to feel comfortable. The staff became like a second family, and they took care of me like I was family. And Im honored to celebrate with them today.
The Breast Imaging Center of Excellence designation recognizes breast imaging centers that have earned accreditation in all of the Colleges voluntary, breast-imaging accreditation programs and modules, in addition to the mandatory Mammography Accreditation Program.
The breast imaging services at Advocate Condell are fully accredited in mammography, stereotactic breast biopsy, breast ultrasound and ultrasound-guided breast biopsy. Peer-review evaluations, conducted in each breast imaging modality by board-certified physicians and medical physicists who are experts in the field, have determined that this facility has achieved high practice standards in image quality, personnel qualifications, facility equipment, quality control procedures, and quality assurance programs.
The ACR, headquartered in Reston, Va., is a national organization serving more than 32,000 diagnostic/interventional radiologists, radiation oncologists, nuclear medicine physicians and medical physicists with programs for focusing on the practice of medical imaging and radiation oncology, as well as the delivery of comprehensive health care services.
We invested a lot of time, talent and energy into attaining Center of Excellence designation, so were pleased with the outcome, said Dr. Louis Manquen, Medical Chair of Advocate Condells Breast Center.
Two years in the making, the award is just the first of many, Manquen told associates last week. And Breast Center associates are ready for what comes next.
This has been one of the best team efforts with which I have ever had the pleasure to be involved, said Norma Johnson on behalf of the Breast Center staff. Our administration, who have been so encouraging and faithful in seeing this process through; our excellent group of radiologists, pathologists, physicians and nurses; our dedicated and skilled mammographers and ultrasound techs; our tirelessly helpful registration personnel and volunteers; our knowledgeable PACS administrators; and the physicists and clinical engineers who keep us up and running --- they all played a role. I also want to extend a heartfelt thanks to the other Advocate Breast Centers for their patience with multiple phone calls, emails and questions. Their participation certainly contributed to our success, she added.
To have acquired this recognition puts us in an elite group of facilities that have complied with the rigorous standards set forth by the American College of Radiology, Johnson added. We are able to offer our community the highest standards of breast cancer detection and care. We are proud and happy to say today, we are a breast imaging center of excellence.
Advocate Condell Medical Center Vice President of Professional Services Airica Steed added: This accomplishment demonstrates our relentless commitment to excellence in breast health, beginning with prevention and early detection and continuing throughout the continuum of care. It is our vision to continue to elevate the center to new heights and to be recognized as a comprehensive center of excellence in the community.