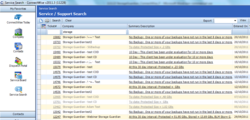 TORONTO, CANADA (PRWEB) April 16, 2012
VARs and MSPs that use the ConnectWise Professional Services Automation (PSA) software can now boost their bottom line by adding Storage Guardian value-added cloud backup solutions. The Storage Guardian cloud backup integration with ConnectWise is now available, giving IT solutions providers a fast and convenient way to enhance the range of services they offer their customers.
Storage Guardians ConnectWise integration enables customers to quickly add cloud backup monitoring alerts from Storage Guardian to their ConnectWise PSA service board. Managed service providers (MSPs) can gain enhanced visibility into their clients backup activities, eliminating the need to review backup and server logs. MSPs that currently resell Storage Guardian's cloud backup services can license the ConnectWise PSA product and take immediate advantage of the enhanced backup reporting and timesaving efficiencies.
Through the integration, Storage Guardian can tailor the structure and frequency of ConnectWise reports to meet the varied needs of different solutions providers. Storage Guardians cloud backup services start at $ 50/TB/month, providing an attractive recurring revenue stream for its reseller partners. Were getting a very positive response from MSPs that have signed up for the service, and wed like to schedule evaluations for other ConnectWise customers who want to add Storage Guardian to their current suite of services, said Dave Minns, client services manager at Storage Guardian. Also, this year, were providing 24x7x366 support for ConnectWise partners.
Fully integrated solution streamlines backup monitoring for managed service providers
Storage Guardian cloud backup integration with ConnectWise is ideal for MSPs that remotely manage data backups for numerous clients. It is not uncommon for an individual MSP to handle 250 unique backup sets every day.
Storage Guardian for ConnectWise facilitates streamlined monitoring and support for our customers. The data accumulated in our Asigra-based datacenters can be shared with a solution providers ConnectWise system, said Minns. Our detailed and event-driven reporting lets you take a proactive role in the management of your clients data backup activities, and deliver better service. Its easy to get started with one or two clients and then add more clients and backup sources as you go.
Avi Bitterman, VP of business development at Insite Computer Group, now gets updated reports that report any backup anomalies in their ConnectWise system: We currently manage online backup for more than 150 customers, each of whom is counting on us to ensure their data on numerous computers and laptops is safely protected. The new Storage Guardian ConnectWise integration with ConnectWise means we can offer our customers enhanced monitoring and reporting, and saves us the time we used to spend checking error logs of hundreds of backup jobs.
Storage Guardian offers a complete range of cloud backup solutions for MSPs and VARs priced to grow an MSPs bottom line, including Storage Guardian Mobile Client, a comprehensive remote data backup and recovery solution for businesses that need more than typical mass-market backup products can offer. Designed for businesses with several desktop computers, numerous laptops and some network-attached storage units, Storage Guardian Mobile Client provides an all-inclusive backup and recovery service that ensures all crucial data is safely backup-up to a secure, offsite datacenter.
Storage Guardian is the leader in value-added cloud backup
With more than ten years experience and thousands of satisfied customers, Storage Guardians remote data backup service has established itself as a dependable provider of enterprise-grade online backup technology for companies of all sizes. What sets it apart from the many low-cost alternatives in the market are online data backup features optimized for businesses that depend on Microsoft Small Business Server 2003/2008, Microsoft SharePoint, and Lotus Notes.
Storage Guardian and SAS 70 (Type II)

Storage Guardian has completed the Statement on Auditing Standards (SAS) No. 70 for service providers, receiving a service auditors Type II report. The SAS 70 Type II report is a widely recognized auditing standard developed by the American Institute of Certified Public Accountants (AICPA), and affirms that Storage Guardians policies and procedures are appropriately designed with the proper controls in place, and functioning as designed.
About Storage Guardian

Storage Guardian delivers cloud backup solutions that enable comprehensive business continuity protection and information lifecycle management. Storage Guardian is used by small and midsize businesses, enterprises, and multiple-platform LAN computing environments that want to safeguard their critical business data in a secure, off-site location. Its cloud backup service is the culmination of more than a decade of intense research and software development, and represents a superior alternative to local disk- and tape-based data recovery systems. All Storage Guardians solutions are based on televaulting technology from Asigra, a recognized leader in enterprise cloud backup. The company is also developing a select network of authorized VARs to service the off-site backup and fast data recovery needs of companies located throughout North America. For more, visit http://www.storageguardian.com and follow Storage Guardian on Facebook, YouTube and Twitter.