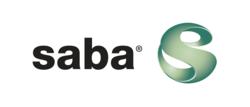 REDWOOD SHORES, Calif. (PRWEB) April 03, 2012
Saba (NASDAQ:SABA), the premier provider of people-centric enterprise solutions, would like to congratulate the winners of the Chief Learning Officer magazine's LearningElite awards and especially acknowledge the winners who are Saba customers. Overall, 45 outstanding organizations, including nine Saba customers, were named finalists for their achievements in learning and development this year. Altogether, Saba customers accounted for 20 percent of the honorees. Saba is a proud program sponsor of the 2012 LearningElite Gala that occurred Sunday evening at the Loews Miami Beach Hotel in Miami Beach, Florida.
Supporting Quote

We would like to congratulate all the LearningElite finalists, including the numerous Saba customers, who were named for their outstanding accomplishments, said Karen Steele, senior vice president of corporate marketing, Saba. These industry leaders are achieving organizational success and performance through best-in-class learning and development initiatives. Through their efforts, these organizations highlight the continued strength of the learning management market.
LearningElite Winners

Chief Learning Officer magazine's LearningElite program recognizes organizations across all industries that have delivered significant business results from exemplary workforce learning and development initiatives over the past year. Candidates for the awards were selected based upon impact, size and industries served. Winners were then chosen based upon their impact on leadership development, use of technology, executive buy-in, and content development and delivery. Of the finalists named, Saba customer winners include: