New Drag-and-Drop Dispatch Board and Mobile Quoting and Timecard Functions; FieldConnect Expands Suite of Mobile Field Technology Solutions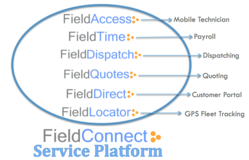 Irvine, CA (PRWEB) March 20, 2012
FieldConnect, a leading provider of mobile field service applications, is proud to announce the addition of three new products to its current offering of Microsoft Dynamics GP, SL, and AX, and Sage Timberline ERP add-ons. FieldConnect's Service Platform streamlines communication between field staff, back office, and customers, replacing a paper-based work order system and boosting the efficiency of the field staff and the invoicing and payroll processes.
FieldDispatch is a web-based graphical dashboard for service call creation and management, featuring real-time drag-and-drop calendaring and a robust set of dispatch views and search capabilities, designed to ease the bottleneck at the dispatch point. It also features Predictive Availability, an alert system that notifies the dispatcher when a tech is wrapping up a job so that he can be seamlessly assigned to the next.
FieldQuotes allows sales and field staff to create quotes, get approvals and produce work orders, while relying on rate sheets, markups, and pricing from the existing ERP system. When integrated with the FieldDirect customer portal, online approvals can be routed to customers instantly.
FieldTime gives field staff electronic access to time cards to clock in and out, make adjustments, and send to payroll without needing to come in to the office. When integrated with FieldAccess, FieldTime creates a complete closed loop for payroll accountability.
These new products expand FieldConnects existing Service Platform which includes FieldAccess, remote technician software allowing field staff to view historical data on site, create and update work orders, and submit them electronically to the back office, FieldDirect, a secure customer portal allowing customers to create and view requests for repairs, and FieldLocator, a GPS fleet tracking solution connecting to back-office accounting software.
Combined, FieldConnect solutions work seamlessly with existing processes and ERP systems, maximizing the efficiency of a field services organization from call creation, to service visit, to invoicing, said FieldConnect President Rick Galyean. Techs perform more jobs per day, customers can view the status of their service requests, and invoices are sent out the same day, improving cash flow and empowering customers and employees.
For more than a decade, FieldPledge has been the companys proprietary implementation toolkit, ensuring that its many thousands of users are adopting and executing the technology in the field. This set of best practices allows the organization to immediately realize value from the FieldConnect Service Platform with unequaled simplicity and effectiveness.
FieldConnect software is fully scalable to suit organizations of any size, in any industry. For more information, visit http://www.fieldconnect.com.
Visit FieldConnect at Microsoft Convergence 2012 in Houston at Booth #2412.
About FieldConnect

FieldConnect maximizes customer satisfaction and profit per field technician by managing real-time service call information to all service stakeholders: customers, technicians and dispatchers. Our suite of software applications extends the functionality of the Sage Timberline and Microsoft Dynamics field service solutions. FieldConnect is a privately held Microsoft Certified Partner and Sage Development Partner based in Irvine, California and has been deploying field service solutions since 2002.
More Tech Press Releases