Mount Sinai Medical Center Deploys Perminova EP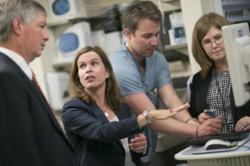 La Jolla, CA (PRWEB) April 24, 2012
Perminova, developer of a new breed of web-based information systems for the nations leading cardiology centers, announced that Mount Sinai Medical Center in New York, one of the nations leading heart hospitals, has installed Perminova EP at the Leona M. and Harry B. Helmsley Charitable Trust Center for Cardiac Electrophysiology.
Perminova EP is a web-based cardiovascular information system that manages scheduling, workflow, documentation and billing processes before, during and after cardiac electrophysiology (EP) procedures. Perminovas web-based products are pioneering healthcares move from outdated client-server technology to modern-and-secure cloud computing.
At Mount Sinai, Perminova EP allows clinicians to quickly complete operative and case reports within minutes after a procedure. Reports can be electronically signed and immediately uploaded to the hospital EMR and sent to the billing department. During procedures, a full list of codes for devices, medications and equipment are captured electronically for efficient and timely reimbursement. Documentation and reports created by Perminova EP are highly searchable and can be accessed and completed anytime, anywhere and on any web browser.
Perminova gives our EP lab the flexibility to access procedure records securely from any location. That means doctors and nurses dont have to come in on weekends or late at night to catch up on paperwork, or get frustrated when the server is down and they cant do any documentation, said Vivek Y. Reddy, MD, Professor of Cardiology and Director of the Cardiac Arrhythmia Service at Mount Sinai Heart. Improvements in documentation with Perminova EP may ultimately result in improved patient care and safety.
Like other cardiac labs, Mount Sinais busy EP lab previously used email among dozens of people to coordinate patient and staff schedules and link with the billing department. Perminova simplifies and streamlines the daily process of managing an EP lab. Perminovas features allow staff to proactively manage cases several days in advance, preventing case delays by ensuring each patient has necessary insurance authorization and pre-operative tests.
Cardiologists have said that they spend more time on the paperwork than they do on the pacemaker, said Ken Miceli, Senior Director of Information Technology at Mount Sinais Cardiovascular Institute and Heart Hospital. Thats going to change with Perminova EP. We see the entire documentation process becoming easier yet more comprehensive, and this will provide both administrative and clinical improvements for the EP lab.
In addition to workflow and scheduling, Perminova EP also dramatically improves billing by eliminating lost charge sheets and reducing reimbursement denials, while reports from each procedure are automatically available to Mount Sinais billing department. Perminova EP also helps the EP lab go paperless, a goal for the entire Mount Sinai Medical Center.
Perminova products are browser-based and cloud-based, deploying and upgrading easily via the web with rapid configuration, integration and customization. Deploying Perminova EP is relatively inexpensive compared to enterprise software and does not require expensive new hardware. Perminova products can be seamlessly integrated into any hospitals electronic medical records system. Perminovas architecture allows integration of medical devices and customization of robust data for medical research and clinical trials.
The deployment of Perminova EP at Mount Sinai Medical Center makes one of the nations top EP labs even better by simplifying operations, sharing data and enabling research, said Craig K. Collins, President and CEO of Perminova Inc. Mount Sinais physicians, nurses and technologists will spend more time on direct patient care while the labs charge capture increases. State-of-the-art electrophysiology truly moves into the 21st century with Perminova EP.
About Mount Sinai Medical Center
The Mount Sinai Medical Center, founded in 1852, is a 1,171-bed tertiary- and quaternary-care teaching facility and one of the nation's oldest, largest and most-respected voluntary hospitals. In 2011, US News and World Report ranked The Mount Sinai Medical Center 16th on its elite Honor Roll of the nation's top hospitals based on reputation, safety, and other patient-care factors. Nearly 60,000 people were treated at Mount Sinai as inpatients last year, and approximately 560,000 outpatient visits took place. Mount Sinai Medical Center ranks among the nation's best hospitals for cardiology and heart surgery in the 2011-2012 "Best Hospitals" issue of US News & World Report.
About Perminova
La Jolla, Calif.-based Perminova develops and markets web-based, cloud-based software for the nations leading cardiology centers. The company is pioneering healthcares move from outdated client-server technology to modern-and-secure cloud computing. Perminova products are electronic surgical records systems for cardiology, and theyre more robust, flexible and cost-effective than anything currently on the market. Its products improve charge-capture and efficiency, while automatically producing case reports and billing reports. Perminova seamlessly integrates with existing electronic medical records systems and deploys and upgrades easily via the web. Perminovas architecture allows integration of medical devices and customization of robust data for medical research and clinical trials. Currently, Perminova EP is used at Mount Sinai Medical Center in New York and the UC San Diego Health System.
Find More Computer Press Releases