Lee Company Chooses FieldConnect to Boost Field Services Efficiency & Customer Satisfaction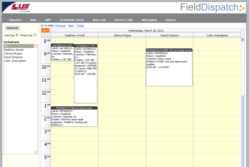 Nashville, TN (PRWEB) April 03, 2012
Lee Company, a leading provider of facility solutions and home services, including HVAC, plumbing, electrical and mechanical contracting services to both commercial and residential customers, will adopt FieldConnects full mobile services platform to streamline communications between its field staff, back office, and customers. FieldConnects offerings provide for seamless integration with Lee Companys existing Microsoft Dynamics SL ERP platform, replacing a paper-based work order system and enhancing efficiency in the field and in the billing and payroll departments.
Lee Company will install FieldConnects FieldDispatch,a graphical dispatch dashboard featuring drag-and-drop calendaring and Predictive Availability of field technicians, FieldDirect, which allows customers to create and view their own requests for service, and FieldAccess, a mobile solution providing field techs with robust historical info on site and the ability to create and update paperless work orders from the field. Collectively, FieldConnects solutions will allow Lee Company the ability to maximize billable hours for roughly 200 field techs, send out invoices the same day as service, reduce bottleneck at the dispatch point, and empower and inform their customers.
After researching many providers, FieldConnect offered us the most comprehensive, cost-effective solution for streamlining our field tech communication to back office, improving customer communication, and speeding up our entire delivery system, says Dan Kalman, Lee Company Vice President of Home Services. Ease and speed of implementation, as well as compatibility with our existing processes and infrastructure were key elements in our decision.
Lee Company will be one of our first clients to implement our new dispatch dashboard for Microsoft Dynamics SL, FieldDispatch, says FieldConnect President Rick Galyean. FieldDispatch features Predictive Availability, an alerting system which not only notifies the dispatcher when a tech is getting a signature and completing a job but also asks the tech, once he has been on the job for a while, to predict his finishing time. This gives FieldDispatch the best prediction of when to make additional work ready for this technician or it lets a dispatcher best guess if he or she is going to have resources available later on that afternoon. The increase in billable hours per tech will provide Lee Company an instant revenue boost without the cost of adding new personnel.
FieldConnects field services solutions are fully scalable and suitable to any size company or industry. For further information, please visit http://www.fieldconnect.com.
About FieldConnect

FieldConnect maximizes customer satisfaction and profit per field technician by managing real-time service call information to all service stakeholders: customers, technicians and dispatchers. Our suite of software applications extends the functionality of the Microsoft Dynamics and Sage Timberline field service solutions. FieldConnect is a privately held Microsoft Certified Partner and Sage Development Partner based in Irvine, California and has been deploying field service solutions since 2002.
About Lee Company

Lee Company is a trusted provider of comprehensive services for businesses and homes. We are committed to finding innovative solutions to meet the specific needs of every customer. If you're a homeowner, we're here to serve you with our Home Services, from heating and air conditioning to plumbing and electrical, plus so much more.
If you're a building owner, whether your solution needs are construction, engineering, sustainability, service or facility management, Lee Company's real value is in its integrated approach to the delivery of these services with our Facilities Solutions group.
Our solutions provide a single source of responsibility and performance a reliable, efficient, and

cost effective method of meeting your goals.
Related Tech Press Releases