Groupware Technology Wins Cisco West Area Breakaway Partner of the Year Award at Cisco Partner Summit 2012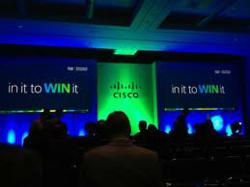 Campbell, CA (PRWEB) April 22, 2012
Groupware Technology, Inc., a rapidly growing information technology solution provider, announced today it is the recipient of the West Area Breakaway Partner of the Year award at the 2012 Cisco Partner Summit. Cisco unveiled the winners April 17th at its annual channel partner conference in San Diego, Calif.
Cisco is proud to partner with so many well-respected and industry-leading organizations, and it is an honor to recognize Groupware Technology as a Cisco Partner Summit theater award winner, said Jim Sherriff, senior vice president, Americas Partner Organization at Cisco. The Breakaway Partner of the Year award presented to Groupware recognizes its exceptional performance and expertise as a Cisco channel partner in the Western U.S. in 2011.
Groupware announced in November 2011 that it had met all of the requirements to achieve Cisco Silver Certification, which enables Groupware to provide its customers with premier access to its products, services and support tools. Groupware has acquired some very high-level Cisco engineering talent and its customers have been able to take advantage of its certifications and hands-on experience in security, advanced routing and switching and data center infrastructures.
To receive the Breakaway Partner of the Year Award so quickly on the heels of our Cisco Silver Certification is a reflection of the strength of the relationships we have formed with our customers in the delivery of integrated network solutions, said Mike Thompson, Groupware President and CEO. This recognition of Groupware by Cisco Worldwide and regional channel executives highlights the successes Groupware has had in collaborating with customers to evolve their datacenter infrastructures through virtualization, automation and cloud computing solutions.
###
About Groupware Technology

Groupware Technology, Inc., headquartered in the San Francisco Bay Area, is a leading information technology solution provider with offices in Denver, CO, Portland, OR and Seattle, WA. The company provides enterprise technology solutions to its customers in commercial, healthcare and government markets. Groupware specializes in storage, security, networking, enterprise systems and software. For more information, contact (408) 540-0090 or visit groupwaretechnology.com.
Follow us on:

Facebook: http://www.facebook.com/pages/Groupware-Technology-Inc/178627312150860

LinkedIn: http://www.linkedin.com/company/groupware-technology
Contact

Beth Fox,

503.963.6816

bfox(at)gw-mail(dot)com