Green Asset International Inc. Dedicates Unprecedented $100 Million Funding Facility to Medical Cannabis Division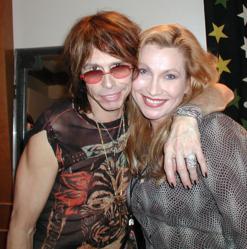 Beverly Hills, CA (PRWEB) March 14, 2012
Green media executive Cheryl Shuman announced today that Green Asset International Inc. (GreenAssetInc.com) is dedicating an unprecedented US $ 100 Million funding facility to develop the corporatization and rebranding of the cannabis industrys ancillary businesses.
Green Asset International Inc. C.E.O. Cheryl Shuman will review and acquire legal businesses within the medical cannabis industry. Shuman estimates at least a billion dollars in current ancillary business opportunities. As one of the worlds most respected voices of the movement, its Shumans challenge and responsibility to remove the negative stigma and stereotypes of the cannabis user. Real men and women in the corporate world are taking a stand to make a change by boldly coming out to the closet to show their support and the validity of this great, growth-potential business by investing in the cannabis sector.
Green Asset announced the formation of the cannabis industrys first acquisition vehicle to take advantage of the $ 1.7 billion medical marijuana market. To further assist investors, Green Asset will host a series of symposiums to share information and present opportunities to these potential investors.
Green Asset plans to target for acquisition cutting-edge medical and social media companies, with a focus on consolidating those sectors. The funding agreement is broad and allows Green Asset to fund its objective of finding and acquiring established companies in expanding medical and social media fields and consolidating them for maximum efficiency and profitability. Green Asset will target for purchase profitable and successful companies that need more capital to reach their full potential.
This creates a wonderful opportunity for entrepreneurs and smart investors to be on the ground floor of this exciting and groundbreaking industry. There are great financial rewards coupled with a chance to be involved in a hot ticket business that is on the cutting edge, said Green Asset CEO Cheryl Shuman.
The beautiful thing about the cannabis plant is that it not only has the ability to heal a multitude of illnesses, it also has the power to heal the economy by creating desperately needed jobs that can grow small businesses. Even in the face of this dismal national economy, the legal medical cannabis industry is growing and creating those jobs. There is a huge network of educated and sophisticated cannabis consuming investors that envision enormous rewards financially, environmentally and socially. Its a win-win-win, said Shuman.
Many investment groups and businesses have shown serious interest in the great opportunities inclusive in this sector but have not done so yet, partially due to a lack of information. Green Asset addresses this by educating with market data and knowledge.
Experts and investors agree that this industry has a great deal of promise. The formation of Green Asset, and the subsequent great response to it, is indicative of the evolvement of this industry and provides investors with the best opportunities.
The Green Asset Symposiums are the next logical step for the medical cannabis industry and follow in the footsteps of the many other industries that have educated investors on start-ups, such as the bio-tech and green industries.
The medical marijuana business has a five-year market potential of $ 8.7 billion and sales in 2011 were reported at $ 1.3 billion according to the See Change Strategy market report. (http://medicalmarijuanamarkets.com/)
CEO Cheryl Shuman brings 25 years of experience working with media, celebrities, marketing and health care in Beverly Hills. Since 1996, Shuman has been pursuing her passion in the alternative health and social movement working as a medical cannabis activist and legal cannabis patient. Using cannabis and other alternative health options, Shuman has survived cancer and injuries from two car crashes. She is the former Executive Director of Beverly Hills NORML and Director of Celebrity, Media and Public Relations for KUSH Magazine. She is an expert in anti-aging, alternative healthcare and community activism.
"The therapeutic value of socialization and the building of community cannot be overstated. The right of patients to peaceably assemble – to socialize and build family and community, and network and organize – is paramount for their health and recovery. Our social networking platforms and development and marketing of alternative medical treatment options will provide fellowship for consumers, patients and activists internationally," states Shuman.
"We as a modern society can fiscally improve our budget by moving cannabis from the criminal sector into the lawful sector," Shuman said. "This is not a left or right issue — it's really common sense. Regulation and taxation of marijuana could produce billions of dollars in additional tax revenue, as well as save on the enormous costs of law enforcement. Bottom line is the prohibition of marijuana has been a fiscal fiasco."
Green Assets group of investors is the answer to resolving these issues. Green Asset represents the largest financial commitment for cannabis related investment in history. For additional information see: http://www.GreenAssetInc.com"
#