Fetchly Announces New Mobile Features for its Digital Business Card at SXSW; Commences Contest to Encourage Fetch and Send Usage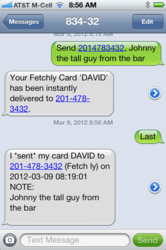 Teaneck, NJ (PRWEB) March 09, 2012
Fetchly, the innovator of the digital business card, will publicly release its NOTE, LOG, and LAST features at SXSW to enhance the digital business card experience. A digital business card is the best way to exchange contact information with other attendees at any event, especially to a tech savvy audience like those at SXSW.
"We're excited to release these additional features and could not have done so at a better time or place than SXSW. We've listened to the feedback of our users, many of which are in attendance at SXSW and we thank you for your continued support." says David Berkowitz, Co-Founder and CEO of Fetchly. "As we innovate the mobile networking space, we understand the ever changing landscape and look forward to releasing many new features in the near future."
To entice everyone to use Fetchlys service, we will be running a contest starting March 9th, 2012 and will run through March 18th, 2012. Each unique fetch and send earns you 1 point. The user with the most points at the end of SXSW will receive a text message from Fetchly on how to claim their prize. To get started signup at http://www.fetchly.com/sxsw and choose a username. Mobile users can join by composing a text message to 83432. In the body of the text, type the word join (without quotes), your email address, and full name (ex TO: 83432 MSG: join John Doe John@example.com). After sending the message, you will receive a confirmation text stating your card is ready to use. The temporary card will only return your name and email address. You can log onto Fetchly at a later time to create a permanent user name and add other information to your card, such as company name, job title, address, phone number, etc.
How to use the note feature:

The note feature is useful to add notes to a send or fetch when you're not by a computer. It's important to mention that the notes are for your internal use and never displayed to the other person. Compare this to when you collect someones card and you jot down a quick note to remind of why you exchanged information.

When sending your card to a mobile number or username, simply add a comma at the end of your message and then begin typing your note. ex. send 2015551234, this is my note. When Fetching another users card text the username followed by a comma and then your note. ex fetchly, this is the company that innovated the digital business card.
How to use the last and log features:

To use last, compose a text message to 83432. In the body of the message, type the word last.

The last feature was created to give a user detailed information, including number, date, time and note about their last transaction.

To use log, compose a text message to 83432 and in the body of the message type the word log.

The log feature was created to give the user a broader snapshot of their last five transactions.
Storing a note using the log feature:

Text the word log to 83432 to return your last five interactions. Reply to the text message with the number and a period from the list and the note you want to store. ex. 1. This is Amber. Call her after the event with a proposal on services we provide. This feature is very helpful when a users card is fetched and wants to store a note.
About Fetchly
Fetchly makes contact-swapping easy via text message on any mobile phone. Contact information can be sent to or fetched by anyone, even people not registered with Fetchly. Only the information you want to share will be displayed to the other party. An online activity feed displays all your interactions for easy reference any time. Fetchly Connect extends Fetchly's core features to allow attendees at events to connect with exhibitors and other attendees. When using Fetchly Connect, exhibitors will generate leads to increase their ROI, and attendees will see added value. At the end of the event, Fetchly provides the event manager a detailed report with the analytics of the event.
To see a demo or to learn more:

Text SXSW to 83432
Follow us on Twitter @fetchly
Like us on Facebook
For more information:

David Berkowitz, Co-Founder and CEO

Fetchly

877-558-3432 x3

http://www.fetchly.com
Find More Tech Press Releases