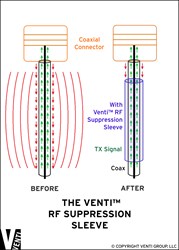 Laguna Hills, CA (PRWEB) April 10, 2012
The Venti RF suppression sleeve is a patent-pending EMI/RFI solution that replaces the need for higher costing 1/4 wave chokes, stubs and ferrite cores. The Venti sleeve is effective at 2.4 and 5 GHz and all other frequencies above 1 GHz, opening up a whole new world for product designers and engineers that was not previously available. A small form, low labor replacement for current EMI/RFI alternatives available today, the Venti sleeve is perfect for mass-produced coax and cables.
Venti R&D engineers, while developing Horizontal WiFi antenna designs, discovered that the radiating coaxial feedlines distorted their antenna patterns. Suppressing radiating feedlines in 2.4 & 5 GHz, engineers had to look beyond the prior art for a more cost effective solution.
The Venti engineers developed an EMI/RFI Suppression sleeve for RF Coax/Cables for antennas, consumer electronics, computer and power cables. The Venti sleeve suppresses coax and cable radiation (EMI/RFI) that distorts antenna patterns and affects components and devices inter-connected by cable assemblies.
The Venti sleeve is effective from 500MHz to 30GHz and is very low profile. The Venti sleeve is a choke sleeve that may be simply and economically applied, it eliminates the need for connection to the cable, and does not require the cable to be coaxial or shielded. The low-cost tuned Venti sleeve is targeted to specific frequencies and can be applied as mass produced conductive foil or conductive coating. There is no need for any redesign of coax, cables or connecting components or devices to implement the sleeve - in fact, current coax and cables can be retrofitted with the sleeve.
About The Venti Group:

The Venti Group, LLC develops, acquires, licenses and sells intellectual properties that are revolutionary in the Wireless & Technology World. They operate in more than 160 countries, and their portfolio includes horizontal antenna designs for Wi-Fi in medium to high-end wireless devices, high-gain in-building and outdoor antennas and collinear arrays. The Venti antenna designs are high-performing solutions that reduce form factor and costs.
The Venti Group, LLC is a privately held company represented and owned by engineers, scientists and entrepreneurs, and specializing in technology-related IP.
For further information on the EMI/RFI Venti sleeve solution, contact

Mark Krajcir

Sr. Sales Director

Venti Group, LLC

telephone: 949-429-3070

email: markk(at)ventigroup(dot)com

website: http://www.ventisleeve.com/