DuraLabel Pioneers Wide Format Network Independent Industrial Labeling System Introduces MPS 150T to Expand Functionality of Popular DuraLabel 9000 Labeler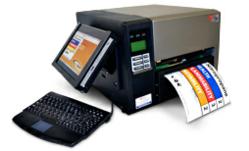 Portland, Or. (PRWEB) February 14, 2012
DuraLabel has launched the MPS 150T Print Station. Designed to interface with the popular DuraLabel 9000 9 label and sign printer, the MPS 150T enables users to quickly power up and get to work creating extra large custom Arc Flash safety signs, pipe markers and bar codes without worrying about IT department and network security concerns.

The MPS 150T 10-inch touch screen monitor mounts on the side of the DuraLabel 9000 and comes completely loaded with OSHA-ANSI compliant software. Its heavy duty rugged design is ideal for harsh industrial environments such as mines, construction sites, warehouses, distribution centers and oil rigs where wall-sized safety signs and labels can aid in communicating hazard and danger warnings.
The MPS 150T is seated in an adjustable bracket for ergonomic efficiency and ease of use. Use the pointer stylus to navigate the touch screen or the optional keyboard with track pad to create and print labels and signs at your convenience.
The MPS 150 T provides 300 dpi print resolution, prints on 4 9 supply widths and at 3 per second.

Key features and accessories include: