Cyrid Media Scores Triple Play with Local Baseball Marketing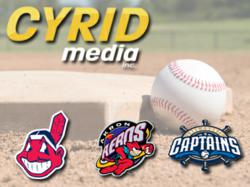 Cleveland, Ohio (PRWEB) February 23, 2012
Cyrid Media, a Cleveland-based advertising agency who represents the Cleveland Indians baseball team, recently added The Lake County Captains and The Akron Aeros to the list of local baseball franchises who enlist their baseball marketing expertise. The Lake County Captains are a single A minor league baseball team located in Eastlake, Ohio. The Akron Aeros are a double AA minor league baseball franchise in Akron, Ohio.
" We always thought it would make good sense for one marketing group to represent all three local baseball franchises", says Mark Dolan, owner and President of Cyrid Media. "We are excited about this opportunity and we look forward to exploiting the obvious synergies that exist here. Cleveland is fortunate in that is has three out of the four levels of major league baseball all within easy driving distance from one another."
The Cleveland Indians manages baseball operations for the Lake County Captains and the Akron Aeros, as well as for the Columbus Clippers, the triple AAA minor League franchise located in Columbus, Ohio. However, all three minor league franchises are separately owned entities from a business operations standpoint.
Cyrid Media, founded in 2000 by Mark Dolan, provides marketing and advertising services for a wide range of local and regional businesses throughout Northeastern, Ohio. Marketing services include media planning and buying, social media strategy, consulting and implementation, behavioral targeting, video production and graphic design.
###
Find More Graphic Press Releases