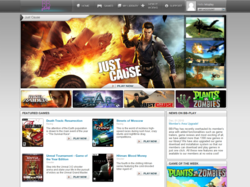 New York, NY (PRWEB) April 27, 2012
BB-Play.com plans to rewrite history this April by offering thousands of games across mobile and PC platforms to users around the world. The website brings together thousands of AAA Premium video game titles from many of todays top video game studios -offering its members a simple and inexpensive monthly subscription service for full access to its comprehensive game catalogue. With this website, you can simply click on the games you wish to play on your computer or your mobile device such as tablet or smartphone, and your games will immediately start! You won't need to take your credit card out every time you want to buy a game. Indeed, BB-Play.com does facilitate content delivery by having video games be readily accessible and easily downloadable directly from their website.
Every week, members can expect new games rolling out from BB-Play.com as they work closely with top game publishers to ensure that they get the best games out there. The monthly service provides its members with access to over 30 game categories, including casual, action, adventure, board, and family games. To play the games, the members simply need to install a small software that manage all the game downloads and sync it to all the user's devices and computers.
For additional information or a sample copy, please email them at pr(at)LetsPlayVentures(dot)com
LetsPlayVentures (LetsPlayVentures.com) is the owner of BB-Play.com. Jo Media Group is a marketing and publishing Company focused on providing services and solutions to the video game industry. Aside from BB-Play.com, LetsPlayVentures.com has several game related projects in the pipeline. For more information on the Jo Media Group, or any of its subsidiary companies, please visit http://www.LetsPlayVentures.com, or contact them directly at pr(at)LetsPlayVentures.com
Related Computer Press Releases