Banjos Direct becomes main UK dealer for handmade high-tech Nechville banjos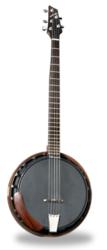 Norwich, Norfolk, UK (PRWEB UK) 3 April 2012
Nechville Musical Products, the radically innovative USA banjo manufacturer, has appointed Banjos Direct as its main UK Nechville dealer.
Banjos Direct is the only UK retailer to stock the entire range of ten handmade Nechville Heli-Mount banjo designs which utilise a unique technology developed by the firm's founder Tom Nechville.
Replacing more than seventy parts of a traditional banjo, the Nechville Heli-Mount body tightens together much like a jar on a lid; greatly reducing the assembly time and improving the banjo's sound.
Tom Nechville has spent years in development and in consultation with the world's top players researching and finding ways to improve the design of the classic banjo.
Nechville's unique approach to banjo design and construction has been enthusiastically accepted by the world's top players such as Bela Fleck and Alison Brown.
Nechville instruments have appeared on MTV, the Olympics opening ceremonies, CMA Awards show, numerous cable and Direct TV specials and in major live Country, Rock, Jazz and Bluegrass concerts around the planet.
Banjos Direct founder and CEO Simon Middleton commented: "We are enormously proud to be working with Tom Nechville. His instruments are radical and exciting, and hand-built to the very highest standards. They are not only superb sounding and playing instruments for enthusiasts and professionals, but they are also highly collectible."
"Tom Nechville's banjos complement the wide range of traditional banjos by GoldTone which are so popular with our customers."
A number of the Nechville banjos at Banjos Direct are available for immediate delivery, and others are available to order, with a lead time of 45 to 90 days, depending on the particular design.
"Tom Nechville is a small batch producer, a real craftsman, even though his instruments are amazingly high-tech in their construction and some of them very modern in their appearance," said Simon Middleton.
Company information:
Banjos Direct is the UK's fastest-growing specialist banjo retailer, leading the renaissance of interest in the banjo amongst players of every age and background. The Norwich-based company is the UK's leading stockist of USA banjo brands GoldTone and Nechville, and also stocks instruments by Barnes & Mullins, Pilgrim and Tanglewood.
Founder and CEO of Banjos Direct, Simon Middleton, is frontman of English-Americana band The Proposition, whose debut album King Snake Devil Shake was released in March this year. Middleton, who was a brand strategy consultant before turning to musical instrument retail, is also the author of several books on branding, including 'Build A Brand In 30 Days' and 'Brand New You'.
Find Banjos Direct at http://www.banjosdirect.co.uk.

Email: info(at)banjosdirect(dot)co(dot)uk

Phone: +44 (0) 1603 305800
More Tech Press Releases