B-Folders 3: the Non-Cloud, Secure Organizer is Launched by JointLogic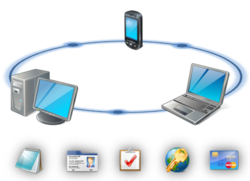 Plovdiv, Bulgaria, EU (PRWEB) April 19, 2012
Today JointLogic Ltd. is launching B-Folders 3, the next generation of secure organizer for Android, Windows, Mac, and Linux.
With growing privacy concerns about cloud computing, security-conscious users are looking for non-cloud solutions to manage their private data. B-Folders is designed from the ground-up for keeping, organizing and syncing sensitive information across mobile devices and personal computers without a central server. Hence, a lot of Palm users migrating to Android are deciding not to store their contacts and memos on the cloud and are choosing B-Folders.
B-Folders 3 can be used as a notepad, contact manager, task manager, password manager, bookmark manager, and journal on Android smartphones and tablets and on personal computers running Windows, Mac OS X and Linux. User data is protected from unauthorized access (thieves, hackers and malware) by using a strong encryption cipher.
The nested folder system works just like Palm's categories (only you can have an unlimited number of them and can combine Contacts, Memos, and Passwords all the in the same folder). It's more versatile than Palm with a feature of "customizable cards. I had been using an encrypted password program in addition to Palm before – now it's all in B-Folders, which even auto-fills your passwords into the login pages you've stored. said Karen S. Brinkman, a beta tester.
Pricing and Availability
B-Folders 3 Android Edition is free for personal and commercial use and is available for download and on Google Play. It will also be available at the Amazon Appstore very soon.
B-Folders 3 Desktop Edition is available for download and is priced at US $ 29.95. All customers that purchased a B-Folders 2 license will upgrade for free.
Helpful Links
B-Folders 3 Product Info

B-Folders 3 Syncing Overview

Video demo (select 720p)
About JointLogic
JointLogic, with its B-Folders product, is defining the "Secure Organizer" category and leading the emerging market it has created. More information is available at http://www.jointlogic.com/about/
Related Computer Press Releases