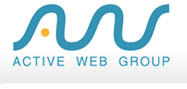 Hauppauge, NY (PRWEB) February 29, 2012
Active Web Group, Inc. (AWG), the leading Internet Marketing Services firm headquartered in Hauppauge, New York, today announced its plan for assisting small businesses to compete with industry giants. Their answer is the scaleable WordPress websites.
In this economy small business needs to utilize every advantage possible, notes Pat Norton, Vice President and Director of Business Development, Active Web Group, Inc. These sites must be SEO friendly, content must be easily updated, the sites functionality can be extended with plug-ins and much more, Norton states. By offering them low-cost, open-source WordPress websites, we give their online businesses the tools they need to have a fighting chance against industry leaders, he concludes.
There are many advantages to these sites. By design they are SEO friendly to begin with. This feature assists online business owners to develop an online presence quickly. No longer will they have to hire a webmaster to make changes. The content management system enables owners to update their site content without knowledge of HTML coding. The site can also be upgraded in stages selecting from thousands of existing plug-ins. So todays informational site can easily become an online store by adding a shopping cart plug-in. Blogs and social media plug-ins are also popular upgrade choices. Online support 24/7 and easy installs allow owners to avoid hiring a programmer and to use a less costly designer to make upgrades instead.

Active Web Group is an industry leader known for its cutting-edge web designs and redesigns. A full-service agency, Active Web Group also has extensive experience in Search Engine Optimization (SEO), Programming (all proficiencies including php, asp and asp.net), Email Marketing, Website Content Development, Graphic Design, E-Commerce, Magento Ecommerce, WordPress Ecommerce, Mobile sites, custom solutions and Pay-Per-Click Marketing. To learn more: http://www.activewebgroup.com/internet-marketing-services/
###