20/20 Optometry of Silicon Valley Now Offers Sight for Children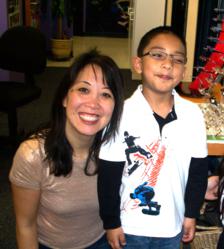 San Jose, CA (PRWEB) April 14, 2012
According to the American Optometric Association (AOA), children should have their first thorough eye exam by six months of age, another by three years old, and again before entering kindergarten. Beyond that, regular eye exams through an eye doctor are recommended to keep any eye diseases or vision complications at bay.
Unfortunately, many children dont have access to routine exams due to the financial situations surrounding them. Since its so important to detect any vision disorders or eye diseases early, 20/20 Optometry of Silicon Valley has introduced a program called Sight for Children, which provides free eye exams and glasses to children in need.
20/20 Optometry is one of the leading Bay Area vision care providers. It offers comprehensive eye exams, a wide selection of designer eyewear, custom contact lenses, and surgical procedures such as LASIK. And for those children in need ages 16 years and younger, 20/20 Optometry of Silicon Valley offers a helping hand.
For every double pair of glasses purchased by a patient, $ 5 gets put in the pot of money used to pay for eye exams and glasses for children in need. Patients can enter children they know in the Sight for Children program by filling out a form at the 20/20 Optometry office. When the resources are available, every child mentioned receives the benefits of this program, and when resources are lacking, recipients are chosen based on level of need.
If you know children who can benefit from a program like this, stop by 20/20 Optometry and enter their information so they will have a chance, invites Dr. Jeanette Lee, Bay Area optometrist at 20/20 Optometry.
According to Dr. Lee, it can be very difficult to notice vision problems in children and infants without a complete eye exam, which, contrary to popular belief, is not what they receive in school or from a pediatrician.
Proper visual development is important for a childs learning, involvement in activities, and overall wellbeing. 20/20 Optometry of Silicon Valley offers its Sight for Children program to ensure the possibility of precise vision care is available to all children, not just those who can afford it.
We want to give back to the children of tomorrow and want to continue to provide improved quality of life for those who do not have the resources to make their vision clearer, says Dr. Lee.
The Bay Area eye care specialists at 20/20 Optometry have helped many children in need with their Sight for Children program. One child in particular left a lasting impression on Dr. Jeanette Lee, because he was on the verge of losing his eyesight completely and desperately needed a pair of glasses to clearly see his wish of finally going to Disneyland come true.
His wish was to go to Disneyland before he went blind completely and our office helped make his wish come true, explains Dr. Lee. Sometimes just being a part of a child's life can give them a positive impact that they can remember forever.
The vision care experts at 20/20 Optometry make sure the children selected for the program have good experiences and they go home with the glasses they need.
For more information about the Sight for Children program or other services offered by 20/20 Optometry of Silicon Valley, visit 2020eyesonline.com or become a fan on Facebook at http://www.facebook.com/2020optometry. 20/20 Optometry is located at 2555 North First Street in San Jose.
About 20/20 Optometry of Silicon Valley

20/20 Optometry of Silicon Valley is a Bay Area optometry office located in the central part of Silicon Valley. Since it opened in 2000, the office has continued to grow because it meets the needs of its patients and provides customer service as one of its strongest attributes. During an eye exam, 20/20 Optometrys eye doctors are trained to address the cause of patients eye-related problems, and not just the symptoms. The doctors can treat allergies, infections and various eye diseases. They design specialty computer eye glasses for computer users, successfully treat dry eyes and offer many solutions and treatments for visual symptoms. The eyewear stylists will then help clients easily find eyeglass frames that will fit each individuals personality and lifestyle. Contact lenses from 1-day disposables to custom contact lenses for irregular corneas are also available at the Bay Area optometry office.