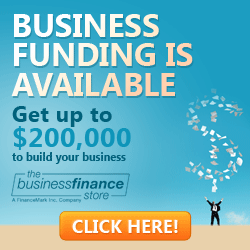 Santa Ana, CA (PRWEB) February 13, 2012
Facebook filed its initial public offering (IPO) with the Securities and Exchange Commission last week. In the filing, Facebook mentioned the unique opportunities for small business marketing on their site, particularly the company CM Photographics. According to Fox News, CM Photographics was able to generate significant increases in revenue as a result of its $ 600 Facebook marketing campaign. Aside from the fact that Facebook mentioned CM Photographics in its IPO filing, it demonstrates the power of partnerships between businesses. Small businesses of any industry could benefit. In the recent blog post Facebook IPO Filing Gives Nod to Small Biz User, The Business Finance Store discusses social media and other networking opportunities for small businesses to take advantage.
For small business leaders trying to innovate and expand in creative ways, it can seem like the best plans have already been done before. However, there is a lot more that small businesses can do, not just with Facebook, but with other (even newer) companies offering tech and branding services. Read more about opportunities for networking and expanding small business at The Business Finance Store Blog.
The Business Finance Store is a business financing and consulting firm that offers customized Business Financial Solutions. Seasoned professionals offer assistance in a variety of financial solutions to help small businesses succeed such as: Business Financial Solutions, Legal Solutions, and Accounting Solutions.
The staff at The Business Finance Store understands that starting and growing a business is an exciting time. They keep it exciting by taking care of some of the most difficult aspects, by providing legal advice, helping with vital responsibilities like accounting & bookkeeping, and by obtaining business finance. They can quickly and easily guide entrepreneurs through many different complicated processes and put them on the path to success.
For 10 years The Business Finance Store has been helping startups and other small businesses legally structure their companies, find the right franchises, get the funding they need, and achieve the American Dream of owning their own successful business. Since expanding nationwide in 2007, they have helped thousands of companies and have funded over $ 60 Million in business credit lines, not including SBA loans. The Business Finance Store sees limitless potential in the current climate, and looks forward to many strong years of growth to come. Take some time to review their services, and give them a call.
For more information, or a free, no-obligation analysis of your business needs, visit The Business Finance Store website: http://www.businessfinancestore.com. A member of their professional staff will contact you to discuss your business' short and long-term goals. Whatever you need, The Business Finance Store is there.
# # #
Related Tech Press Releases