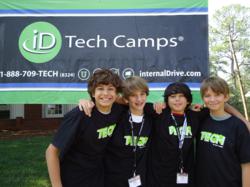 Campbell, CA (PRWEB) February 22, 2012
Technology education leader iD Gaming Academy recently announced a new partnership with GUNNAR Optiks, manufacturer of advanced computer and gaming eyewear. The partnership will provide all students of iD Gaming Academys teen gaming camps with access to computer eyewear for use during the pre-college programs. Students will also have an ongoing opportunity to win a personal pair per program session.
According to iD Gaming Academy CEO, Pete Ingram-Cauchi, the partnership is part of iDs strategy for staying ahead of the curve. Technology moves fast. We work hard to keep our curriculum completely up to date and that includes using the latest products and software. As our students continue working hard, we want to ensure that their health is protected and that their eyes are not strained. To that effect, were proud to partner with GUNNAR Optiks to place its computer eyewear for regular use in the classroom.
The iD Gaming Academy is an intensive pre-college program where student gamers learn the technologies behind their hobbies. In the two-week overnight summer programs, teens learn everything from the basics of how to create video games to level design with the Unreal