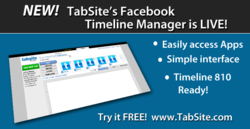 South Bend, IN (PRWEB) March 20, 2012
The developers of TabSite have redesigned the TabSite Page Manager area to work seamlessly with the new Facebook's Timeline page and tab design.
The restyled manager has a Timeline styled interface with each tab app being shown in the manager area and a new wider work area is ready for users to build custom tab apps at the new 810 px width. All existing content created by users at the old 520 px width of fan page tabs is available to be restyled for the new wider page tab apps. As the Facebook API for Timeline grows, TabSite expects to be able to add more features to the TabSite manager area to give users more power to manage and control their Facebook Page tools from within TabSite such as the 111 x 74 Timeline app larger icon image.
KEY AREAS in the TabSite manager include:
TABS: This is where users can access any tab app that they have created, or build a new one. Users will simply click the pencil icon next to each tab app icon to access a full menu of tools to add/remove the tab to the page, rename the tab app, and more.
WIDGETS: Once a tab app is created, users can then select the widgets link and view a full array of widget tools such as importing blog feeds, adding YouTube Channels, running a Sweepstakes and more, based on Plan levels, and simply drag the widget to their tab work area to open the features to complete building that feature into their tab.
IMAGES: User can simply drag and add images to the drag pad, or click the pad to browse to their computer to load image files. Within the image manager, users can create folders, delete images, move images to folders and drag images to the work area to build their custom design.
LAYERS: The power to move widgets to the front (top) view or back so that users can style and create the pixel perfect look for their tab. Simply drag widgets up in the layers area to move to the forefront in your design, or down to move behind other layers.
TEMPLATES: Quickly add a professional design or get specific image needed by viewing the TabSite gallery of free, professional designs, where user can make a selection and add to any TabSite page.
MY SUB-PAGES: TabSite allows user to create multiple sub-pages within any tab app. While working on any tab app in the TabSite manager, users can access the Like Gate, create a new sub-page, view existing sub-pages, and view page insights all from the drop down menu of My Sub-Pages. Publish and unpublish sub-pages and the Like Gate from the Open / View Pages selection as well.
The clean, intuitive style of the new Manager with the full array of tools allows small and medium sized businesses to easily build visually stunning and socially engaging custom tab apps. Try TabSite for free!
_____________________________
TabSite is a Facebook Page App builder platform used by over 70,000 small and medium sized businesses. With a slick Drag N Build interface, TabSite allows users to quickly build custom Facebook Page app tabs. A full suite of tools are available including professional templates, Social Sharing tools, video and blog RSS embedding, Sweepstakes, and more.