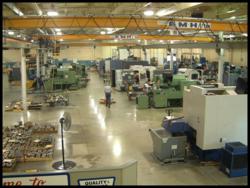 Mentor, OH (PRWEB) February 23, 2012
Roll-Kraft, a leading producer of tube & pipe and roll form tooling, has an on-going relationship with various educational facilities to help promote technical career options. The latest event was held at Lakeland Community College in Kirtland, OH.
The occasion featured Mr. Ken Platt, a CNC Operator/Programmer at Roll-Kraft, who presented information to a class of students in the College Tech Prep program. These junior and senior high school students are getting a head start on a technical career. Mr. Platt, who participated in this College Tech Prep program several years ago, discussed with the students the opportunities available in the manufacturing field and explained how industry has changed over the years, with cleaner surroundings and electronic technology to do the heavy work.
Mr. Platt used an exhibit of Roll-Krafts roll tooling to demonstrate the process of rolling coiled steel into a finalized product and also showed videos of Roll-Krafts factory. Roll-Krafts rolls are used to produce a multitude of products for the entire world, including such items as pipe for oil wells, guardrails, doors, round, square, and rectangular furniture and lighting products, and automotive and building products.
Roll-Kraft plans to continue to encourage students to pursue a manufacturing career by conducting similar classes on a regular basis and arranging student visits to Roll-Kraft.
To learn more about tube and pipe and roll forming career opportunities at Roll-Kraft, visit Roll-Kraft Employment Opportunities on the Roll-Kraft website.
Roll-Kraft has its headquarters in Mentor, Ohio, and maintains other facilities in Frankfort, Illinois (Roll-Kraft Northern), and Ontario Canada (Roll-Kraft Ltd.). The company phone number is (888) 953-9400 or (440) 205-3100, and the fax number is (440) 205-3110. Please also visit the web site at roll-kraft.com. For easy and immediate contact with Roll-Kraft that transcends time zones and working hours, the website features Dr. Resolve. Simply complete and submit an on-line form and Roll-Kraft will respond.
###
More Tech Press Releases