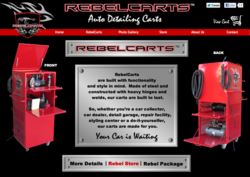 Phoenix, AZ (PRWEB) February 06, 2012
RebelCarts, which specializes in the design and manufacture of auto detailing carts is bringing their first mobile detailing cart to the car care market.
The cart, which is named the Renegade, brings various detailing tools together in one convenient mobile cart. It is designed to bring greater convenience, efficiency and style to the car care process.
The company successfully introduced the cart at the Barrett-Jackson Auto Auction in Scottsdale, Arizona in January. "We were determined to get our carts in front of the car crazy consumer that attends this auction. It was a great event and we are pleased with the consumer support we received," said Chris Hallsey, RebelCarts President and Founder.
RebelCarts has focused its efforts on combining the most commonly used tools in the car cleaning process into a single mobile cart. Their carts house a vacuum and air compressor, with additional storage areas that can be used for detailing tools, like polishers and buffers, in addition to cleaning supplies and towels. "Our research tells us that consumers don't have a convenient option to help in the auto detailing process, and would embrace one. Whether they're car collectors, car dealerships or service facilities, they all have the same need for quality, convenience and efficiency," says Hallsey.
However, targeting a savvy consumer requires a product that will meet the standard these consumers demand. Mr. Hallsey cites this as a key factor in product development, "We have been focused on quality and customization from day one. Our carts need to stand up to the rigors of a garage environment, while providing exceptional style and ease of use. We work hard with our customers to ensure our carts compliment their cars and garages. We offer various colors, and provide the ability to customize graphics." In order to achieve the desired quality, the company uses steel, and fabricates each cart individually with sturdy welds and heavy-duty hinges to ensure each consumer receives a product that will last.
The company is optimistic about the future of the car care industry, and their carts. As consumers have adapted to the economic environment, they have chosen to keep their vehicles longer. Rather than buy new, they are repairing and upgrading their existing cars. This provides great opportunity for the service, repair and detailing industry. "In the past a car in for repair may have been returned to the owner in less than clean condition, however, those businesses that adapt and return that car clean, inside and out, stand to gain market share. At RebelCarts, we believe we can help in this process," says Hallsey.
RebelCarts, based in Phoenix, Arizona was founded in 2011. The company designs and manufactures auto detailing carts that are designed to help auto enthusiasts maintain the great looks of their cars. RebelCarts wants you to be equally as proud of the cart you use, as you are the car you clean. RebelCarts. Your car is waiting. RebelCarts auto detailing carts are proudly made in the USA. For more information, please contact the company at info(at)rebelcarts(dot)com.
###