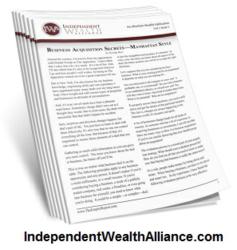 Austin, TX (PRWEB) March 11, 2012
Todays Absolute Wealth newsletter article by Mike Sankowski explains that when markets are going up they tend to continue going up, with researchers saying momentum is a little known fourth factor of stock returns. Mike states in the newsletter, that Positive Momentum trading takes advantage of this fact, and to find the best performing assets over the last several months then follow these assets.
The Article published today by the Absolute Wealth newsletter says that the best part about momentum trading is that it is so simple, because people don't need to spend hours in front of a computer screen, or be on the phone with their broker 3 times a day. Positive momentum trading, the newsletter adds, only takes a few minutes a month to place a few trades, and once those trades are in, the work is done for the month.
Mike reveals in todays newsletter that placing these stock trades in an IRA account is very easy, and people can usually switch to a low cost IRA provider, then use a super simple momentum strategy in that account.
The Absolute Wealth newsletter article reports that the good thing about doing Positive Momentum trading right is:
1) People can trade this with a stock account

2) It only trades 1 time a month

3) People choose a handful of ETF's to trade

4) Many people can do this system in their retirement account

5) The returns are higher and smoother than the stock market
Mike explains in the Absolute Wealth newsletter article that on the first trading day of every month, this strategy makes just a handful of trades, and people can do these trades in a stock account. This can be their retirement account for most people, the newsletter suggests, and if they have a normal stock account, it works too.
The important part is to choose assets that are already going up, Mike reveals in todays Absolute Wealth newsletter article, and to do this in a consistent manner. Once people start doing this every month, it will be easy to continue adds the newsletter, simply because they will find their account going up during the good times, and avoiding the worst losses during the bad times.
###
Pages
Categories
Blogroll
Archive
Meta