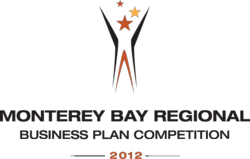 Marina, CA (PRWEB) February 01, 2012
The organizers of the Monterey Bay Regional Business Plan Competition (http://www.MBRCompetition.com) today announced the launch of the 2012 Competition to be held on Friday, May 4th, 2012 at the Monterey Institute of International Studies (MIIS), with Congressman Sam Farr presenting the award to the final winner.
All start-ups that can show how they will create jobs in the tri-county area are welcome to apply. The Monterey Bay Regional Business Plan Competition has the support of more than 50 business, education and government partners from the tri-county region that are united to showcase the business potential of the area; support regional start-ups; attract business and investors to the region; encourage business students to become entrepreneurs; and promote tech transfer, innovation and commercialization.
The competition begins with workshops throughout the region during February, with one-page applications due on February 27th, and culminates with a presentation event and the final event on May 4th. Prizes range from $ 1,000 cash for the winning student team, to $ 5,000 cash for the winning main-street company, to $ 50,000 in cash and professional services for the winning venture-play company. A main-street company is defined as one that will be a successful local or regional business creating jobs in the tri-county area, but is not scalable to return 10 times the investors money in three to five years.
COMPETITION TIMELINE

FEBRUARY

Workshops held across the region designed to give applicants a head start on the application process.
MONDAY, FEBRUARY 27

One-page applications are due by 5:00 p.m.
FRIDAY, MARCH 9

Fever Pitch mandatory event; preliminary screening of applications at California State University, Monterey Bay (CSUMB). This year all applicants will have another round of reviews during a screening event held Friday, March 9th at CSUMB. Applicants will have five minutes to present their business idea and answer questions from a panel of judges. Then, semifinalists will be chosen to move on in the competition and will be required to complete full business plans and compete in the final event on May 4th.
MONDAY, APRIL 23

Semifinalists must submit their complete business plan by 5:00 p.m.
FRIDAY, MAY 4

Forum Event Live presentations of finalists and winners announced at the Monterey Institute of International Studies (MIIS). During the May 4th event, finalists will present to panels of angel investors, private investors, successful entrepreneurs, regional CEOs and venture capitalists from groups like the Band of Angels, DLA Piper and Wavepoint Venture Capital. Congressman Sam Farr and Elizabeth Echols, the SBA Region IX Administrator are confirmed as speakers for the final event.
Partners involved in the planning and implementation of the competition include CSUMB School of Business Professor, Dr. Brad Barbeau; Head of the GLOBE Center at the MIIS, Dr. Ernest Scalberg; Monterey County Weekly Publisher, Erik Cushman; angel investors, Dr. Rock Clapper of the Band of Angels, Chuck Boggs from the Paladin Venture Development, and Damon Danielson of Pebble Beach Partners; Susan and Alan Barich from Barich Business Services; Mark Peterson of Peterson Communications; and Chris Khan of Khan-Bernier.
SUPPORTING QUOTES:

Susan Arcady Barich, Chair, The Monterey Bay Regional Business Plan Competition and Executive Director, Project 17 - Monterey Bay's Regional Ag Innovation Cluster

The competition is about more than just winning; it is about the whole process of providing a network of support for innovation and entrepreneurship that connects our region. The competition was such a fun success over the past few years. This year we continue to have main-street and student tracks, as well as a special category for agricultural technologies.
We also have a more attention from service providers in the San Francisco Bay Area like DLA Piper, the largest law firm in the world, and White Summers of Redwood City, a law firm specializing in early-stage technology companies, both of which are supporting us for the second year in a row.
Many large technology companies, including Seagate, Plantronics, Digital Research, SCO and Borland, started here in our region. We have a history of success, and we can attract Silicon Valley start-ups to create jobs in our beautiful corner of the world.
2011 Champion, PeopleTowels

Linda Lannon, Co-founder , PeopleTowels

Winning the Monterey Bay Regional Business Plan Competition provided great exposure for our company, PeopleTowels; opening doors to many resources and individuals in the community. Of particular value to me were the pitch sessions to the judges and investors.