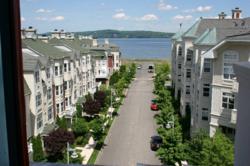 Valhalla, NY (PRWEB) March 14, 2012
One-bedroom apartments are now completely leased at the new Parkside luxury apartment rental building in Rockland County, NY. Two-bedroom rental apartments are still available. The news of 1-bedroom apartments being fully rented was somewhat expected since interest in Parksides luxury apartment rentals was strong from its inception. Over 80% of the rental apartments are already leased, well ahead of initial expectations.
The intense interest in Parksides luxury apartment rentals is partially due to its desirable Hudson River waterfront location, quality features, innovative layouts, luxury amenities and competitively priced rental units. It is also, in large part, a result of the increasing trend to rent apartments rather than purchase homes and the limited supply of quality, luxury apartments for rent in Rockland County, New York and neighboring Bergen County, NJ.
The demand for luxury apartments in Rockland County was anticipated by GDC Homes, the developer of Parkside, but the interest level has been greater than expected. We recognized a shortage of luxury apartments for rent in Rockland County, New York and New Jerseys Bergen County, commented Martin Ginsburg, President of GDC Homes. We looked closely at the quantity and quality of available luxury apartments for rent in Nanuet, Piermont and Nyack, NY - nearby popular towns, and determined that luxury rental apartments on the Hudson River waterfront would be a welcome addition to the Rockland County, New York, real estate landscape. But we didnt expect that interest would be this high and that leasing would be this fast-paced.
Parkside is the first apartment rental building in The Harbors at Haverstraw community of townhomes, condominiums and apartments fronting the Hudson River in Rockland County, New York. The brand new apartment building offers 1-bedroom apartment rentals and 2-bedroom apartment rentals with luxury amenities and recreational activities. A short commute to Bergen County, NJ, it was designed as a preferred alternative for renters looking for apartments for rent in nearby Nyack and Piermont, NY as well as Edgewater and Fort Lee, New Jersey.
With 1-bedroom apartment rental units being fully leased, GDC is now focusing on leasing the remaining 2-bedroom rental apartments. Also available are a limited supply of fifth-floor lofts that include extra flex-space that can be used as a den, guest room, computer room or exercise room. The top-floor lofts also offer great views of the Hudson River and High Tor Mountain, the highest peak in the Hudson Palisades.
The fast rental pace at Parkside is partially attributed to an increase in demand for apartment rentals and the lack of supply of luxury apartments for rent in Rockland County, NY. Demand for apartment rentals is closely related to current economic conditions. With more restrictive lending practices, many families cannot secure favorable mortgages, making renting an apartment the only option. Lack of confidence in the economic outlook also makes apartments for rent more viable for families concerned about affording the upkeep on a home and for those who fear that the home values could further depreciate.
Parkside, in Haverstraw, New York, offers apartments for rent on the Hudson River waterfront and includes a waterfront promenade with a sculpture trail. The village of Haverstraw plans to extend the Hudson River waterfront promenade by using a $ 1 million grant through the state Environmental Protection Fund. The village is in the process of selecting a design firm for the project. When done, the walkway will enhance Parksides amenities and provide excitement that will rival apartments for rent in Nyack and Piermont, NY.
Parkside apartment rentals feature luxury amenities and recreational activities such as a large clubhouse with a spacious fitness center, indoor basketball court, cinema, massage spa and grand lounge. On site are a kayak launch, 2 resort-style swimming pools, marina, river sculpture walk, and bistro/caf