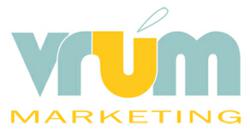 Toronto, ON (PRWEB) January 17, 2012
VRUM Marketing is open for business and offers their clients in southern Ontario complete marketing services with one point of contact.
Aruna Adhya, Principal Consultant of VRUM Marketing, is launching her company largely because she recognizes a real need in the marketplace for a consulting and creative agency combination with a focus on providing a single point of contact for small to medium sized B2Bs.
Often times it can be challenging for small to medium-sized businesses to maintain their own marketing department, says Aruna Adhya. Planning and executing effective marketing campaigns without sufficient resources can be overwhelming for our clients who are often too busy just running the business. Hiring the number of staff required to manage multiple marketing areas such as Website Development, Social Media, inbound marketing and graphic design for example, may be out of reach and thats where VRUM can help.
VRUM Marketing wants to work as an extension of their clients business, almost like their own off-site marketing department. To do that, Ms. Adhya adds, we start by consulting with our client to understand our clients products/services and their market. We then work with our client to define a marketing strategy and provide a realistic, workable marketing plan and follow through with implementation while working within a set budget.
VRUM Marketing works with clients either on a project-by-project basis or on a retainer depending on clients requirements. VRUM considers itself a full-service one-stop-shop so that clients will not have to manage multiple vendors, instead only a single point of contact (that is VRUM) for all their marketing needs.
At VRUM Marketing, Ms. Adhya continues, we thrive on meeting the challenges of the ever-changing marketplace and look forward to working with our clients in this exciting space.
Aruna Adhya has been helping clients with their creative and marketing needs for over ten years in the GTA and is excited about the launch of this new company. VRUM Marketing offers a wide variety of services from Branding to Social Media to Photography and Video . Visit VRUM Marketing online for more details.
###