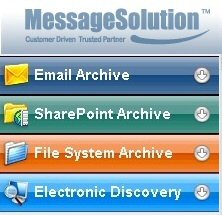 Bellevue, WA (PRWEB) March 26, 2012
The global technology leader in enterprise email, File Systems, SharePoint archiving and electronic discovery, will be showcasing its award-winning technologies at the invitation-only Microsoft Hosting Summit 2012 in Bellevue, Washington (March 27-29, 2012).
MessageSolution delivers both Cloud-based and on-premise solutions for enterprise and SME clients, in addition to serving hosting needs of Managed Service Providers (MSP) to provide for multi-tenants on a single server. MessageSolution Multi-Tenant Archiving Platform allows managed service provider to build a centralized archiving platform on a cost-effective, single hardware configuration to archive for multiple companies with separated individual archives and administration roles.
Our innovative products have been successfully deployed worldwide and MessageSolution technologies continue to pioneer the archiving and eDiscovery industry. Our proficiency provides multiple archives for hundreds of SME organizations on a single server system, said Kevin McInerney, MessageSolution Global Strategist. With our industry leading scalability, we are able to offer the MSP partners the opportunities to archive thousands of users from hundreds of different companies on a single archiving system, or hundreds of thousands of users and more with a clustered archiving platform.
As a first in the market to offer hosted and cloud based solutions, MessageSolution Multi-Tenant Archiving & eDiscovery Platform is an industry-leading packaged software solution to be deployed into hosting partners' datacenters around the world. MessageSolution assists MSP partners to maximize partners' expertise in providing managed service by increasing service offering, optimizing profitability and improving client retention. MessageSolution's technologies give MSPs the option to host multi-tenants on a server, or to manage a dedicated private cloud. Managed service providers who are using the award-winning Archiving & eDiscovery technologies include email hosting firms, online backup solution providers, Cloud storage service providers, IT consultants, ISPs and system integrators.
Also featured at the Microsoft Summit will be MessageSolution Archive Data Replication, which provides continuous data protection technology that automatically duplicates each archived email to a remote server in a DR site. The solution is built on Copy-on-Write, allowing immediate access to data and information to meet the challenges of rigorous legal discovery and compliance requirements in the event of the primary archiving system or data center being down.
In addition to the all-in-one enterprise solution, we also deliver dedicated-hosting platforms so that MSPs can host enterprise and mid-market clients on a private cloud, combining business flexibility, scalability, and technical quality, McInerney concluded.
MessageSolution will be exhibiting its award-winning enterprise information archiving and eDiscovery technologies along with Archive Data Replication for DR to all registered attendees at the Microsoft Hosting Summit 2012 in Bellevue, Washington in Booth # 13 on March 27-29, 2012.
As a Microsoft Gold Partner, MessageSolutions product development team has achieved the following:

Tagged as: 2012, Archiving, Cloud, Computing, eDiscovery, Hosting, Managed, MessageSolution, Microsoft, Platforms, Provider, Service, Showcases, Summit
Leave a comment
Pages
Categories
Blogroll
Archive
Meta