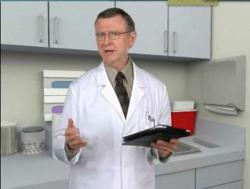 West Hempstead, New York (PRWEB) January 27, 2012
Continuing Education Company, Inc., a 501(c)(3) non-profit medical education organization introduced a new learning technology to the medical education community at the recent Alliance for Continuing Medical Education 37th Annual Conference on January 21-24 in Orlando, Florida. The technology uses highly interactive medical simulations that are presented in a series of movies to an audience of physician learners in a continuing medical education (CME) setting.
Walter Ejnes, President of Continuing Education Company revealed the new learning methodology in a presentation entitled Technology Enabled Simulation in Live CME: A Case Study of Highly Immersive Learning and its Impact on Physician Behavior.