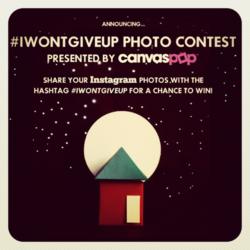 New York, NY (PRWEB) February 08, 2012
Conversations are no longer a one-way street when it comes to artists speaking to their fans; the fans now talk back. Musician Jason Mraz truly understands the power of engaging with his audience and is launching a contest directed towards his huge social media following.
In honor of his new single I Wont Give Up, from now until February 20, Jasons fans are encouraged to post a photo to Instagram that best represents what I Wont Give Up means to them and tag it with the hastag #IWONTGIVEUP.
"I am grateful for everyone who has heard the love in I Won't Give Up, and I'm excited to see how the song translates into so many visual interpretations, said Jason Mraz.
Mraz will be selecting 25 winners whose photos will be printed on stunning 20 x 20 canvases proudly provided by CanvasPop. The art will be displayed at a gallery event in New York City on March 8 where winners will be invited to attend and have their Instagram prints signed by Jason in-person.
"This contest is all about reaching out to fans and developing a personal connection with Jason's inspiring song," said Spencer Callaghan, CanvasPop director of marketing. "We feel the same way about our Instagram print service, it transforms the images from pixels on a screen to a treasured piece of art.
CanvasPop was the first company to print Instagram photos in large format, a product that has been an overwhelming success. Receiving immediate rave reviews from major media outlets including the Wall Street Journal, Mashable and TechCrunch, all were impressed with the quality of the image and simplicity of the ordering process.
Instagram has given people the ability to create art through casual photography, said Mike Mignano, Director, Digital Product Development, Atlantic Records. CanvasPop takes this to a whole new level, allowing candid moments to be captured and transformed into physical pieces of art. The medium is perfect for an artist like Jason, who has found a worldwide audience through his songs, which find beauty and inspiration in these everyday moments.
As a bonus perk, Jason Mraz fans can now get 20% off their CanvasPop order when using promo code JASONMRAZ until the gallery event on March 8.
About CanvasPop
CanvasPop is the web's most innovative provider of custom, high-quality canvas printing services. CanvasPop empowers photographers, digital artists, interior designers and everyday customers to print their images on high quality canvas. CanvasPop allows anyone to print any image including Facebook, iPhone and Instagram pictures, at virtually any size regardless of the original resolution of the image. CanvasPop's goal is to provide both consumers and professionals with the easiest way to print any image on canvas. CanvasPop has printing and distribution facilities in the United States and Canada. CanvasPop is a DNA 11 company. For more information please visit http://www.canvaspop.com.
Follow CanvasPop on Facebook at http://www.facebook.com/canvaspop and on Twitter at http://www.twitter.com/canvaspop.
About Atlantic Records
Atlantic Records celebrated its 60th Anniversary in 2008. Founded in New York City, the label literally grew from a one-room operation into one of the worlds preeminent music companies. Atlantic has released a string of recordings that have had a profound impact on the course of modern music, its rich history including such musical icons as Ray Charles, Aretha Franklin, John Coltrane, and Led Zeppelin. The Atlantic roster today includes many of the worlds most popular recording artists, among them James Blunt, B.o.B, Phil Collins, Death Cab for Cutie, Missy Elliott, Flo Rida, Lupe Fiasco, Gnarls Barkley, Kid Rock, Matchbox Twenty, Janelle Mon