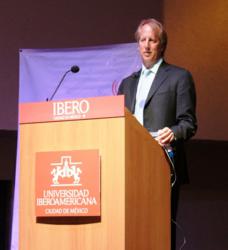 Mexico City, Mexico (PRWEB) March 30, 2012
Rod Beckstrom, ICANNs President and Chief Executive Officer today said the Internet will change more in the next five years than it has in the past three decades.
The Internet has flourished without any central promotion or regulation, said Beckstrom. It has been precisely through its open and free nature that it has become the fundamental platform to build the Information Society.
The ICANN CEO made the remarks during a forum sponsored by Mexicos Ministry of Communications and Transportation and the University Iberoamericana in Mexico City.
We believe in a simple principle: everyone with an interest in the Internet has an equal right to be heard in its governance, he said. All stakeholders should have a voice. No one is more important than the other.
Beckstrom said the future of the Internet will be defined by the very model of governance that ICANN embodies. The Internet itself will depend on coordination and cooperation between its many stakeholders. We must continue to work together under principles of inclusion, consensus, multistakeholder participation, bottom-up decision making processes, transparency and accountability.
Immediately following the forum at the University Iberoamericana, Beckstrom met with Dionisio P