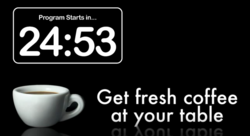 ALPHARETTA, Ga. (PRWEB) January 31, 2012
Many business conferences are promoted the same way: A deluge of HTML emails, some phone calls to drive registration, a flyer in the mail cubby. And then at the actual event, there is some signage and a token stage setup. For harried businesspeople with limited time and budgets, its all pretty boring.
From years of receiving same-old conference marketing materials, and attending some underwhelming events, GM Voices, the worlds largest producer of professionally-recorded voice for automated technologies, has set out to help organizations do what so many have failed to dodeliver a conference experience thats unique, fun, and engaging.
Offering a comprehensive suite of conference promotion and business storytelling servicestheme development, professionally-narrated multimedia, business video and animationGM Voices ensures that the words RSVP Today actually inspire action. And an innovative mix of on-site solutions engage attendees in new and exciting ways.
Targeted voice- and video-based services include: