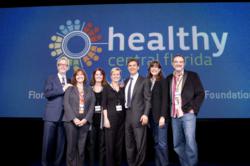 Winter Park, FL (PRWEB) February 07, 2012
On February 6, 2012, Full Sail University was proud to host Florida Hospital and the Winter Park Health Foundation for the launch of Healthy Central Florida (HCF), a unique new initiative designed to help make Central Florida the healthiest community in the nation. Held in the Full Sail Live venue, the event featured Dr. Mehmet Oz, cardiothoracic surgeon and host of the Emmy-award winning The Dr. Oz Show, who helped publicly launched the initiative.
The event welcomed 500-community leaders from Winter Park, Maitland and Eatonville to learn about HCF, which was created and supported by Florida Hospital and the Winter Park Health Foundation to help local communities embrace health and wellness. Attendees were invited to take the 3:30:3 pledge three days a week, 30 minutes of activity, for three months and learned how it takes society as a whole to find success in health.
The response from the entire community to this initiative has been overwhelmingly positive, said Jill Hamilton Buss, Executive Director, Healthy Central Florida. We were thrilled to have the support of Full Sail and their very talented students who captured the spirit and the essence of our work in an inspiring PSA which can be seen on the Healthy Central Florida website (http://www.healthycentralflorida.org) and on local television in the coming months.
In addition to hosting the event, students from Full Sail University were selected to create a public service announcement (PSA) for Healthy Central Florida that debuted during the event. The video project was created through the universitys SPARK program, which allows students in the top of their class to work on projects beyond their current course work to gain experience in their field.
It has been an honor to welcome Florida Hospital, the Winter Park Health Foundation and Dr. Oz to our campus for this awe-inspiring event, said Garry Jones, President, Full Sail University. We are proud to have been a part of such an important celebration that encourages health and well-being in Central Florida."
About Full Sail University:
Full Sail University is an award-winning educational leader for those pursuing careers in the entertainment and media industry. Founded in 1979, Full Sail has been recognized as one of the Top Five Game Degree Programs by Electronic Gaming Monthly, one of the Best Music Programs by Rolling Stone Magazine, and one of the Best Film Programs by UNleashed Magazine. In 2011, Full Sail received the 21st Century Best Practices in Distance Learning Award from the United States Distance Learning Association, was named the School/College of the Year by the Florida Association of Postsecondary Schools and Colleges, and was recognized as one of the Top 100 Social Media Colleges by Studentadvisor.com.
Full Sail offers on-campus and online Masters, Bachelors, and Associates degree programs in areas related to animation, art, business, education, graphic design, film, marketing, web development, music, recording arts, sports, and video games. Full Sail graduate credits include work on OSCAR