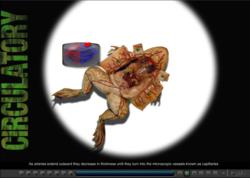 Seattle, WA (PRWEB) March 27, 2012
Froguts Inc, a leading provider of K-12 and higher education biology simulations and labs, is pleased to announce that it has partnered with The National Association of Biology Teachers (NABT) to support the associations efforts and expand the services it provides to biology teachers.
NABT is an amazing professional resource for biology educators and we are excited to enable our subscribers to have easy access to NABTs enriching journal The American Biology Teacher, conferences, and online resources by providing the membership. said Froguts co-Founder David Hughes.
Through the partnership, Froguts will provide free memberships to NABT to any new or renewing subscribers of the Froguts Subscription Service. NABT is a nonprofit professional society dedicated to empowering educators to provide the best possible biology and life science education for all students and Froguts is dedicated to ensuring that NABT is successful in its mission.
We are very pleased with this opportunity to extend our partnership with Froguts, Inc. We, of course, share a strong common interest in providing the best educational opportunities in biology for all students and in seeking opportunities where biology education can be enhanced by technology. This partnership will provide biology educators with a resource that can be used to augment instruction in keeping with NABTs positions on the use of animals and the roles of laboratory and field instruction in biology education said Dr. Donald French, President of NABT. It will also help NABT broaden its connection with the larger community of those who teach biology and through them their students and parents. We look forward to a long and mutually beneficial relationship.
While this offer is most beneficial to teachers at the high school level, it is available to any level of educator subscribing to the service. To learn more about this partnership or to take advantage of the offer visit the Froguts web site.
About Froguts Inc: Froguts Inc is a Bio-eLearning company focused on creating the most engaging virtual dissection and lab software available. Our computer simulations for K-12 and higher education engage students with immersive and interactive 3-D simulations of anatomy and physiology. For additional information about Froguts Inc, to view a demo, or to learn more about the new online Froguts Subscription Service, visit http://www.froguts.com.
About NABT: Since being established in 1938, the National Association of Biology Teachers (NABT) has been the recognized "leader in life science education." Thousands of educators have joined NABT to share experiences and expertise with colleagues from around the globe; keep up with trends and developments in the field; and grow professionally. For more information about NABT, please visit http://www.nabt.org.
Find More Computer Press Releases