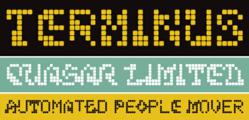 New York (PRWEB) January 25, 2012
Designer Kevin Dresser releases Terminus, an extensive OpenType font.
The Terminus typeface is an exploration of what occurs to letterforms when flip-disc display and variable-message signs begin to malfunction. Whether caused by analog or computer error, there is a mechanical beauty and randomness in the deterioration of the forms.
Kevin Dresser's wild take on this concept purposely pushes the limits of legibility along with incorporating historical bits and pieces from blackletter and uncial script forms into this modern digital grid.
Terminus is now available for $ 25 at MyFonts.com
Kevin Dresser (born 1971, Rochester, New York) has been designing with type and image since 1985, when he created his first commercial work while still in high school. Later part of New York's street art scene, Dresser graduated with a degree in graphic design from Pratt Institute and completed a three-year digital font design apprenticeship under the tutelage of Jonathan Hoefler.
He has designed identities for Band-Aid, Acuvue, King Magazine, Diario de Yucatan, Financial Week, Guitar One, Home Magazine, Rebecca Turbow, Modern Bride and Brooklyn Bunny; custom fonts for Google Chrome, The New York Times Magazine, Architectural Digest, Eminem, Guitar World and the Rodeph Sholom Synagogue; and custom pictograms for The Museum of Modern Art, the Empire State Building, Columbia University, Johnson & Johnson, Radio City Music Hall, The National newspaper (U.A.E.), Computer Shopper, Outside, Guitar World and Working Mother.
Dresser was featured in the Art Directors Club's inaugural Young Guns exhibition in 1997, and his illustration and type design have been included in AIGA 50 Books/50 Covers. His work has been published in Beautiful Decay and the books 1000 Icons, Symbols and Pictograms (Rockport, 2006) and Art de Rue (Artifacts by Free Presse, 2004.
Dresser Johnson

Founded in 1999 by Kevin Dresser and Kate Johnson, Dresser Johnson is a New York-based design studio that focuses on branding and identity design for a wide range of clients. The firm takes a holistic approach to identity, collaborating with clients to create graphic programs that extend into all aspects of a brand, including print, web and environments. Dresser Johnson is recognized for its innovative type design, and many of its projects marry identity and typography to create iconic logotypes, signature fonts and custom pictograms that establish a distinctive presence and point of view for its clients.
The firm has expanded its multi-disciplinary practice to include product design, and recently opened an online shop, Space Dresser Johnson, that offers an extensive library of original digital pictograms for the architecture and design community.
Dresser Johnson has lectured on art and design at New York University, Parsons School of Design and Pratt Institute. Their work has been featured in Communication Arts, HOW, New York Newsday, Gothamist, Swiss Miss and PSFK.
###