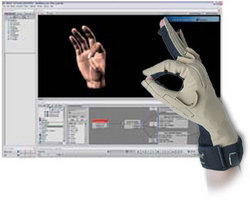 San Jose, CA (PRWEB) January 31, 2012
CyberGlove Systems is proud to announce the official release of its VirtualHand Software v3.1.0. This release will include Windows 7 support for VirtualHand Drivers, VirtualHand SDK, and VirtualHand for MotionBuilder on both 32-bit and 64-bit platforms. In addition, VirtualHand for MotionBuilder will now support multiple gloves and the recently developed CyberGlove III Mocap Glove will be supported by all VH software, along with the rest of CyberGlove products. Our partners and the development community have been asking for Windows 7 compatibility for both 32-bit and 64-bit platforms, and we have made it our focus to make this available to them as soon as possible, said Faisal Yazadi, CEO of CyberGlove Systems. "And now it is."
CyberGlove Systems is the worldwide leader in data glove technology and offers the most sophisticated hand-centric 3D motion capture solutions in the marketplace. CyberGlove Systems' products include four different data glove solutions and its VirtualHand Software Development Kit (SDK). All CyberGlove hardware ships with basic software to help users access devices. However, purchasing the Virtual Hand SDK offers significant additional functionality, including the complete set of libraries included in the SDK. The goal of SDK is to help developers easily integrate real-time 3D hand interaction into their software applications thus minimizing development efforts. Complex 3D simulated worlds are not easy to implement, and programmers cant afford to spend the time required to understand all the inner workings of advanced input/output devices such as the CyberGlove, CyberTouch and CyberGrasp. Nor can they waste time on other complex issues such as collision-detection, haptic scene graphs, event models and global system response.
In a conventional application development environment, with an integrated graphical user interface, programmers are provided with implicit operation of the mouse, windows, document containers and various widgets. The SDK takes a similar approach, offering automatic management of virtual hands, a simulated world with graphical representation and an expandable model for handling interactions between world entities.
The SDK is transparent to the programmers work, as its core is based on a multi-threaded architecture backed with event-based synchronization. This is similar to GUI-based applications where the programmer need not manage the mouse or service GUI events. The application development process should focus on application-specific functionality, not low-level details. To develop an application that makes use of CyberGlove Systems whole-hand input devices, the software designer is provided with an application model that consists of three major components: Virtual human hand, Object manipulation and interaction, and Rendering.
For more information on Virtual Hand SDK and any other hardware or software in the CyberGlove portfolio, please visit our website at http://www.cyberglovesystems.com or contact Faisal Yazadi at fyazadi@cyberglovesystems.com or (408) 451-9463.
About CyberGlove Systems, LLC
CyberGlove Systems is the worldwide leader in data glove technology and offers the most sophisticated hand-centric 3D motion capture solutions in the marketplace. CyberGlove Systems' products include four different data glove solutions (CyberGlove