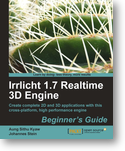 Birmingham, UK (PRWEB) January 31, 2012
Packt is delighted to announce the release of Irrlicht 1.7 Realtime 3D Engine Beginner's Guide, a new book from Packt for C++ programmers to learn Irrlicht from scratch. This book is a step-by-step guide to Irrlicht that starts at an easy level for beginners and then gradually works to more advanced topics through clear code examples and a number of demos, which illustrate theoretical concepts.
The Irrlicht Engine is an open source high performance realtime 3D engine written and usable in C++ and also available for .NET languages. It is completely cross-platform, using D3D, OpenGL and its own software renderer, and has all of the state-of-the-art features which can be found in commercial 3d engines.
Beginning with installation, this book guides the user to create their very first empty application using different platforms and IDEs and apply textures to meshes, load, and access them. They will then learn to add and manipulate images and to change the graphical layout of the user interface. Understanding data types to access objects in a 3D space and facilitate the workflow will also be covered in the book.
Readers will be able manipulate, manage scenes and know how to set up a custom node and animate it using Node Animator. The book scans through camera, lights, and particle systems. Finally, they will learn about some advanced concepts such as handling data, files, and shaders, followed by the last stage deployment.
With plenty of screenshots added in for ease of learning, this book is especially for those having C++ skills and are interested in learning Irrlicht. Absolutely no knowledge of Irrlicht is necessary to follow this book. This book is out now and is available from Packt. For more information, please visit the book page
###
Find More Graphic Press Releases