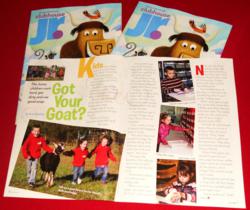 Denver (PRWEB) March 27, 2012
Clubhouse Jr. Magazine, the monthly childrens publication, featured a major story about how the youngest of the 8 Jonas children pitch in at the familys Indiana goat farm to help build http://www.GoatMilkStuff.com into a thriving company marketing all-natural goat milk soaps, lotions, lip balms, bath bombs and more.
The Jonas children work hard, get dirty and use good soap, said Clubhouse Jr. in a two-page spread with story and photos.
Clubhouse Jr. Magazine, designed for children 3 to 7, is a publication of Focus on the Family. The article, online at http://www.clubhousejr.com/got-your-goat, takes young readers through a day in the lives of Hewitt, age 7, who often wraps sugar scrubs and soaps, Indigo, 5, who uses her reading skills to help with computer orders and Jade, 4, who pitches in by bagging bars of soap.
The 8 Jonas children, aged from 4 to 15, each have age-appropriate tasks on the farm where the family makes, packages and ships goat milk soap products.
Mom PJ, a former engineer, began making goat milk soap for her children. Then, as word-of-mouth spread about the excellence of her soaps, she founded a home-based business called Goat Milk Stuff. As the business grew, her husband Jim, a former science teacher, joined to head operations and today the family business markets product throughout the USA and around the world.
As a result of the success of Goat Milk Stuff, the family plans to move from its small 3-acre farm to a 33-acre site, where it will build a new home and production facility and provide plenty of room for the business to grow, the children to play and the goats to graze.
Indiana is proud the Jonas family is an example of the American dream coming true and this year is honoring Goat Milk Stuff as one of the states stellar growing businesses.
Media attention has focused on the Jonas family. In addition to the Clubhouse Jr. article, NBCs Today Show broadcast a lengthy story about how the Jonas family and Goat Milk Stuff, online at http://www.youtube.com/watch?v=ydr6RJknnLk&feature=youtu.be.
Also, earlier this year Oprah Magazine published an interview with PJ Jonas discussing the success of Goat Milk Stuff and the wonderful qualities of the companys products in the Oprahs O Beautiful section, including photos of family and product at http://tinyurl.com/7tyy8mw.
Online at http://www.GoatMilkStuff.com, the Charlestown, Indiana company and makes and markets all-natural Goat Milk Stuff products including goat milk soaps, lip balms, lotions, bath bombs, laundry products and more. For media, licensing and entertainment, contact Brian Dobson at DobsonPR.com or BD (at) DobsonPR.com.