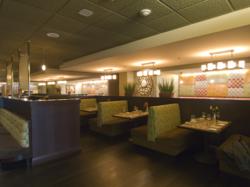 Greenwood Village, Colorado (PRWEB) February 23, 2012
Zink Kitchen + Bar restaurant in the Denver Tech Center has prepared a delicious set of delicacies to tempt taste buds in celebration of Denver Restaurant Week 2012. Denver Restaurant Week celebrates the culinary diversity offered by Denver area restaurants at a special price of only $ 52.80 (the number of feet in a mile, 1609m or Denver's altitude) per couple or $ 26.40 per person.
Zink Kitchen + Bar Denver Tech Center offers such items as Moroccan Harira Soup with braised lamb, ras al hanout and lentils with Hawaiian Wahoo and pineapple fresno relish. For desert enjoy a Nutella Mousse Cake with toffee brittle and bittersweet ganache.
Zink Kitchen + Bar is a perfect location both for office parties and a romantic Tech Center getaway. Whether cravings take on an escape from the office, a night out with friends, or a romantic dinner with a sweetheart, Zink Kitchen + Bar is the place to be. Zink is the newest restaurant to join the Denver tech area.
# # #