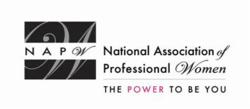 Garden City, NY (PRWEB) January 24, 2012
NAPW New York City Local Chapter met on Wednesday, January 18th at Madison Square Garden Corporate Office at 11 Penn Plaza, New York, NY. The topic of this months professional networking meeting was Health and Wellness for 2012, as the chapter hosted various workshops for attendees.
Diana Estrella, Holistic Health and Nutritional Counselor, and founder of Blissfully Star Retreat discussed health in a busy world. Dianne Scott, the owner of Joy of Living Yoga presented breathing techniques that relax the mind and body and simple stretches that promote flexibility, balance, and strength. Rosemary Serra, the owner of skin care line Leavem Breathless showcased her skincare line and discussed tips for healthy skin. Finally, Chermerdene Jordan, of Reliv International, showcased her nutritional food supplements.
Louise Newsome, President of the New York City Chapter, welcomed the forty attendees to the first meeting of 2012. Louise introduced Patti Pineda, the new regional manager of Local Chapters from NAPW Corporate office. She also discussed the upcoming NAPW National Conference that will be held in New York City in May 2012.
Louise thanked Valerie Young, the social media coordinator for Madison Square Garden for the use of the space for the first meeting of the year. Louise asked for a show of hands for first time meeting attendees and welcomed them hoping to see them more in the future.
Louise Newsome reviewed the success of sending out a short survey last year to ask chapter members what kinds of topics they would like to see happen at the monthly meetings and she will be sending this out again urging members to take the time to fill it out. The group discussed plans for the next mentor meeting with Laura Rivchun, facilitating the topic of networking.
The fundraising committee headed by Erika ladanyi and Nicole Adams is in the process of organizing an event to support non-for-profits owned by or affiliated with the New York City Chapter members. This event is scheduled for April and will be officially announced once final plans have been put in place.
Aida Khalaf-Parker, Chapter Member, shared her experience about how being involved in the Chapter, and through networking with another member, she got a new job at Douglas Elliman in Manhattan. Louise shared that there were other stories of success like this in the Chapter and would share these in emails, on the chapter Facebook page, and at future meetings.
The members were split into four groups to start the workshops and were moved around at 15 minute increments. "The atmosphere of the meeting was electric with the discussions happening around the table," Louise said.
The fourth group was in a smaller private room having a yoga workshop with Dianne Scott. After an hour the group came back together where Louise and Janine did a raffle. The four items for prizes were donated by the speakers.
Attendees included Louise Newsome: President NYC Chapter, Principal NewwayUSA LLC, Office, Design, Construction, Technology and Relocation; Janine Schindler: VP and Special Events Coordinator NYC, Principal JAS Business and Executive Coaching; Patti Pineda: NAPW, Regional manager of Local Chapters; Jade Norfleet: Special Events Coordinator NYC Chapter, Marketing Director, Innovative Poularity LLC; Valerie Young: Social media Coordinator NYC Chapter, Director of Media Sales, Madison Square Garden; Laura Rivchun: Head of Mentor Committee NYC Chapter, Founder LR Consulting; Rosemary Serra: President of Skin Care Line, Leavem Breathless; Chermerdene Jordan: Distributor, Reliv International, Nutritional Drink; Dianne Scott: Owner and Instructor, Joy Of Living Yoga, Certified Yoga Instructor; Diana Estrella: Founder and Owner, Blissfully Star Retreat, Holistic Health Coach; Cynthia Peacock: President and Owner, Biz Vituoso, Inc., Business Consulting; Jennifer Makaw: Prints Charming Graphics, LLC, Art Director/Designer; Darlene Haywood: Founder/Director, DH Essence of Wellness, Health and Wellness; Florence Washington: Non For Profit,Executive Asst, Urban National League; Jenet Levy: Halstead Property, LLC, Real Estate Agent; Jen Bacchus: President, Jennz Variety Shoppe, Inc., E-Commerce; Linda Giordino: President, Relaible Home Improvements of NY, Inc., Home Improvements; Iram Ganju: President, IKG Global Consultants, LLC, HR Consulting-Relocation; Jewell A Staley: Founder and Owner, Real Estate Financial Freedom, Real Estate investing Mentor; Nadiya Jinnah: President, Manufacturing; Aida Khalaf-Parker: Prudential Douglas Elliman, Real Estate; Melissa Kalloo: Coordinating Director, The Avondale Care Group LLC, Health Care; Angali Chugh: Grief Counseling and Energy Healing; Etta Jackson: CEO/Founder, The Institute Of Conscious Global Change, Non for Profit; Rita Rose Lopez: President, GreenApples Staffing and Home Care, Human Resource; Katherine Ryan: Senior Vice president and CFO, Ryan and Ryan PR, Inc, Public, Media and Crisis Management; Janet Rodriguez: Future Sales Director, Mary Kay Cosmetics, Skincare; Lynn Haviland: President Applebaum Associates, Branding and Marketing; Leesa Grant: Insurance Professional, Leesa Grant, Insurance and Financial Services; Mayra Troccoli: Doncaster, Fashion Stylist; Keri Anne Lounse: Mercy College, Assistant Director of Student Services; Jane Bell: Owner and Manager, Pet Portables; Shelley Finkelstein: president, Baron Realty Associates, Inc.; Vanessa Moseley: Owner and Founder, One Body One World; Stephanie Howitt: SLH Lifestyles and Concierge LLC, Lifestyle Management Company; Michele Kennedy: M.Kennedy Arts, Professional Singer; Ruth Gantman: Nutured By Nature, Health Coach; and Vava Buitenkant: Creative Director, Buitenkant Advertising and Design.
The National Association of Professional Women (NAPW) is the largest and most recognized network of female professionals. NAPW provides a forum where women can interact, exchange ideas, educate, network, and empower. NAPW Local Chapters allow members to maximize their experience through meetings, networking opportunities, and professional events.
For additional information regarding the NAPW Louisville Local Chapter and/or NAPW please visit http://www.napw.com.
Follow NAPW on Facebook and Twitter.
# # #