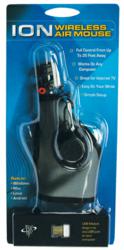 Cocoa, FL (PRWEB) April 02, 2012
Look how the mouse has involved, not the little fuzzy critter, but the controller of the computer world.
Bellco has come out with the Ion Wireless Ergonomic Air mouse Computer glove. The computer mouse has continually been improved upon; some innovations have eliminated the mouse all together but not without some limitations. One may have to be up close to the screen or even touch the screen now without using the computer mouse. However, the Ion Air Mouse Glove relieves these limitations because it has a mobile range of thirty-five feet. Bellco believes the Ion air Mouse Computer Glove works great for the big screen and offers a more relaxed and comfortable experience.
Today, technology maybe taken for granted. Living in a world where one cannot live without the cell phone or computers. Just think what the world would be today without technology. It is hard to imagine. On the other hand, think about where technology is going.
Just over one hundred and twenty years ago, it was just horse and buggy, no electricity, no automobile, no telephone, no airplane- no technology at all. Today technology is transforming the world like never before and is moving faster than the speed of light. There is a generation that lives today that only knows this new world of technology; it is foreign to this generation to think of life without these technologies.
Remember when captain Kirk on Star Trek would flip open the communicator and say Beam me up Scotty, that may not be possible in the physical realm. Yet, today it is possible in the virtual realm in the form of a hologram. To all the inventors out there, technological discoveries have just begun.
Bellco knows that the technology today will be history tomorrow. Pete Bell founder of Bellco says, Innovation is the backbone of the world today. Someone has to step out and invent, improve and perfect to the point that new technologies evolve. Bellco is excited to be part of the technology evolution.
The new Ion Wireless Air Mouse Computer Glove is available online for $ 79.95

For more information go to: http://www.ionwirelessairmouse.com