Yost & Campbell Selected For the Third Year in a Row as Con Edison's HVAC Energy Efficiency Program Contractor of the Year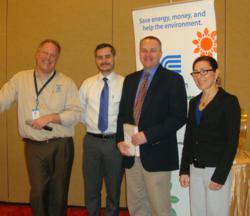 Westchester, NY (PRWEB) February 29, 2012
For the third year in a row Yost & Campbell has been selected as Con Edison's Residential HVAC Energy Efficiency Program Contractor of the Year. Yost & Campbell was the very first recipient of the award in 2009 and received it for 2010 and 2011 for delivering the largest volume of program rebates to its residential customers who participated in the program.
"We are extraordinarily proud to receive this recognition," stated Tom Monahan, Co-Owner of Yost & Campbell, the firm he owns with his brother Kevin. "Our goal is to provide our customers with the very best service as well as the most energy efficient technology available," he added. The firm, celebrating 73 years in business, has become known for retrofitting older homes with unique high velocity air conditioning units that have ducts half the size of conventional air-conditioning and save the homeowner money and precious space while still enabling them to cool off during the summer.
Yost & Campbell was originally founded by Leo Yost and purchased by Tom Monahan, Kevin and Tom's father in 1965. Based in Mt. Vernon New York, the company serves Westchester, Rockland, Queens, Manhattan and the Bronx providing residential HVAC installation and maintenance as well as installation of standby generators for the home.
"Statistics show that every week nearly 3.5 million homeowners experience a power loss across the United States so it's no surprise that installing home generators has become a large part of our business. With the area's recent history of hurricanes and storms resulting in power outages, in some case lasting for days and even weeks, homeowners want to know that they have the power they need to run their refrigerator, freezer, security lights, pumps, security gates, and computer equipment when they need it and that's where the stand-alone generator comes in," stated Tom Monahan.
Monahan noted that generators can be installed for nearly any home regardless of age or size. The firm offers an energy analysis to determine the right size generator so that the homeowner doesn't buy one that is either too small or too big. While a homeowner can install their own generator, the automatic transfer switch needs to be installed by a licensed electrician to prevent back feeding to the power grid which can be dangerous to utility repairmen. Generators are installed outside the home to offer maximum safety and energy efficiency as well as the benefit of no hands-on set up or maintenance by the homeowner. Permanently installed generators are believed to be safer than portable units due to the fact that they do not require refueling during a power outage and are hooked directly into the home's electrical system as opposed to running extension cords. The latest generators test themselves once a week to make certain it is ready in an emergency.
Yost & Campbell is also an authorized and licensed contractor for the new Nest thermostat. The Nest learns the homeowner's heating and cooling preferences over the course of a week and adjusts itself going forward allowing for maximum energy efficiency of all heating and cooling systems in the house. Developed by former Apple engineers, the Nest is the most sought after technology in home thermostats today.
For more information about Yost & Campbell services for installing central air, heating units, boilers or generators, visit http://www.yostandcampbell.com or call 914-668-6461.
# # #